​Mexican drug lord seeks new press strategy, pays journalists for PR
Published time: 24 Sep, 2014 01:31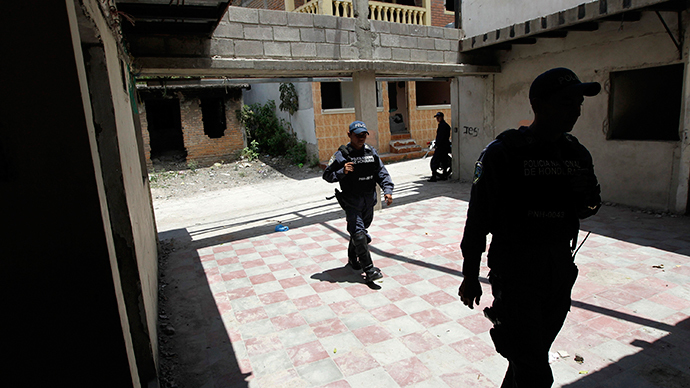 Two reporters from Mexico's troubled Michoacan state have been caught accepting money from the leader of the Knights Templar drug cartel and discussing a "communication strategy" to improve the cartel's image.
In a video published on Monday by Mexican news site MVS, the journalists can be seen receiving money from Servando Gomez, the Knights Templar leader, and asking for more to buy trucks and cameras.
President Enrique Pena Nieto deployed troops to Michoacan early this year to regain control from the Knights Templar, considered one of Mexico's biggest crime groups, and which has a niche in the manufacture of methamphetamine. Gomez has eluded capture despite the presence of thousands of troops and federal police officers.
The drug kingpin, also known as La Tuta (the teacher), complains in the video that he is losing a public relations battle with armed civilian militias fighting his group. One of the reporters, Eliseo Caballero Ramirez, who was the correspondent for the powerful Televisa network – the biggest mass media company in the Spanish-speaking world – responds: "I think you need a press strategy. . . . And to avoid them gaining more attention, send out messages, send email, send photos, send out whatever."
Gomez replies that his group has been providing videos to the public. "Who do you think is uploading everything? We are," he says.
Televisa said in a statement that Caballero was fired after network officials saw the video.
MVS News received the video early last week from an anonymous source who sent it on a USB flash drive to the company's offices in Mexico City. The news organization did not publish the video for a few days, while it confirmed the identities of the journalists and called them to ask about the meeting.
The second reporter in the video is Jose Luis Diaz, owner of Esquema, a news agency that focuses on crime news in Michoacan. Esquema supplied news footage and photos to a wide range of international networks, including the Associated Press, Univision, CNN and Mundo Fox. Diaz also worked as a fixer for foreign journalists in Michoacan covering the conflict between the Knights Templar and self-styled vigilante groups that have attempted to expel the cartel from the region.
When contacted by MVS news, both reporters acknowledged it was them on the video, but said they were "forced" to cooperate with La Tuta because they feared for their lives and the safety of their families.
"It's hard to say no to these people," Caballero told MVS.
Both admitted to accepting money from La Tuta. But during the meeting they are also seen asking for some more favors – like a new truck and video cameras worth $6,000.
READ MORE:Mexico's most wanted drug lord Guzman captured
Cartels have long intimidated Mexican journalists, and have even killed reporters who ignored their threats. This video suggests that organized crime is also trying to buy off journalists, creating a new brand of narco-journalism.
"The risks for journalists in Mexico are no longer just falling prey to violence or intimidation, but also becoming complicit with criminal groups," said Alejandro Hope, a Mexican drug war analyst.
Francisco Sandoval, a spokesman for media rights group Article 19, said that cartels regularly prevent local papers from reporting on crime news, because they fear the reports would put pressure on the army to crack down.
Hope also touched upon a new strategy of narco-journalism, saying that La Tuta's effort to seek positive news coverage seems to be a particular policy of the Knights Templar.
"The Templars see themselves as political actors, and that is why they want to control media messages," Hope said. "They have very well defined territorial aims."
La Tuta has also tried to influence local politicians. A video taken in 2012 showed him meeting with Jesus Reyna, a politician who later became the state's interim governor. In that video, which eventually landed Reyna in jail, La Tuta discussed candidates for congressional races with the now-disgraced politician.
"I think there needs to be a serious investigation into the extent of the Knights Templar power. And if that also includes media," Hope said.
Last year, the drug lord gave interviews to foreign news channels and ranted against opponents in videos uploaded on YouTube, wearing a baseball cap and standing with a pistol holstered to his belt. However, his most recent videography is of a different sort.
Footage shows him sitting down with people who may not have known they were being taped, which would suggest that the videos were made and kept to one day threaten or expose those who were taped.
"For La Tuta, these videos were a sort of insurance policy against possible betrayals…" Alejandro Hope told AFP.