Time for change? New Zealand PM wants to cut Britain's Union Jack out of national flag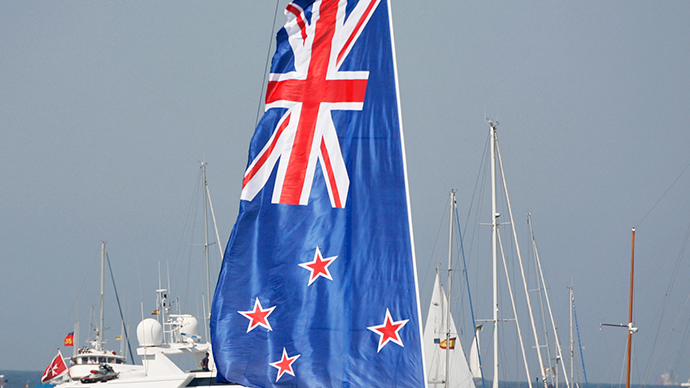 New Zealand Prime Minister John Key, who just won a third term in office, wants to drop the Union Jack from his country's flag. He plans to hold a referendum in 2015, which could lead to the creation of a new flag for the nation.
Just days after sealing a third three-year term as the Prime Minister of New Zealand, John Key is already looking to move away from the country's colonial past. The head of state wants to hold a referendum in 2015 to see if the public wants to abolish the 122 year-old symbol, which has the Union Jack in the left corner and four stars which symbolize the Southern Cross constellation
"I want to get on with it. To me, I'd like to do it in 2015," said Key, referring to the project of remaking the country's flag. "I'd like to complete the whole process next year. I don't think it's one of those things we should hang around with forever," the Washington Post quoted him saying.
The idea was first raised in March, when Key said it was time for the island nation to change as they needed to keep with the times. He cited how Canada changed its flag, which previously contained the Union Jack, to a new modern symbol – a Maple Leaf.
"However, this country, the way we see ourselves in the world and the way others see us, has changed dramatically in the past century. Our flag does not reflect those changes."
However, he could face opposition in trying to move to a more modern symbol, if a poll from March is anything to go by. A One News Colmar Brunton survey, conducted for the state-owned TVNZ television channel, showed 72 percent of people asked wanted to stick with the existing flag, while only 28 percent favored changing it.
If the referendum is successful, possible new designs include a silver fern on a black background, which is used by a number of New Zealand's sports teams – such as the All Blacks rugby union team – or perhaps a Maori symbol, to take into account the indigenous population.
Key's National Party received 48.1 percent of the vote in the parliamentary elections, translating into 62 of 121 parliamentary seats and improving its performance from the previous vote in 2011.
That was in stark comparison to a coalition of anti-establishment politicians and internet freedom advocates led by entrepreneur Kim Dotcom – who promised to shake up New Zealandpolitics but suffered a humiliating defeat.
The Internet-Mana party gained just 26,500 votes – 1.3 percent of the total. That was well short of the five percent needed to cross the parliament threshold. With half the parliament seats contested through proportional representation, and half in a first-past-the-post local election, the party also lost its only previous locally elected MP, Hone Harawira, who couldn't hold onto his seat.
"I take full responsibility for this loss tonight, because the brand Kim Dotcom was poison for what we were trying to achieve, and I did not see that before and it only became apparent to me in the last couple of weeks," Kim Dotcom told a hall of supporters, before storming off and entering his SUV.