Germany opens first renewable energy storage facility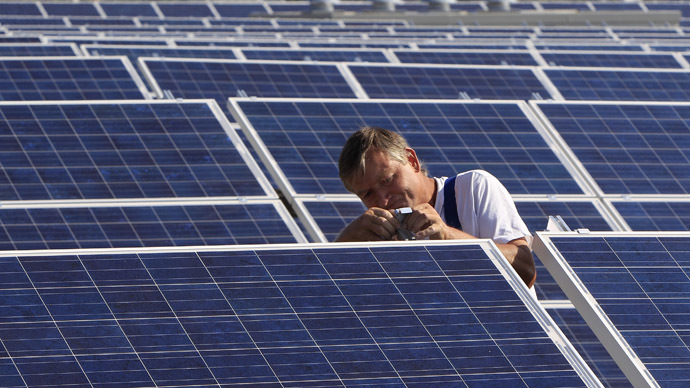 Germany has launched what it claims is Europe's first and largest commercial battery plant, which will help to store renewable power sources. Such sources can prove erratic, as they are dependent on the elements, such as wind and the sun.
The new plant, opened by Wemag AG, will be able to store five megawatts –enough to power roughly 2,500 homes. With Germany committed to going green, one of the country's biggest problems had been where to store excess energy. The country currently produces around 25 percent of its energy from green sources.
"This is an interesting alternative to conventional power plants and the regional utilities have come up with an interesting project here," German Economy Minister Sigmar Gabriel told German television at the plant's opening in Schwerin, around 100km east of Hamburg in the north.
Aufbruch zur Energiewende: Super-Batterie geht in Schwerin ans Netz http://t.co/fFRIrV7GFA via @ntvde

— Energiepolitik (@energiepolitik) September 16, 2014
The installation cost 6 million euro and is the size of a school gymnasium, while it's powered by 25,600 lithium-ion batteries, which were produced by Samsung. The plant will service an area of 8,600 sq. km, which already receives 80 percent of its energy from renewable sources. However, by the end of the year the region should be totally dependent on green energy, according to Reuters.
"The first commercially operating battery storage plant of this size is an important step to realize the German energy switch," said Gabriel, who also added that the German Environment Ministry had contributed 1.3 million euro to the project, Bloomberg reports.
Following the meltdown at the Fukushima nuclear power plant in Japan in 2011, German President Angela Merkel made a commitment to phase out nuclear power by 2022 and concentrate on generating a higher percentage of renewable sources.
#Schwerin: Europas größter #Batteriespeicher in Betrieb | tagesschau.de - @Younicos@wemag_ag - http://t.co/xPWrYaQTac

— Peter Crain (@euleminerva) September 16, 2014
Germany hopes to raise the amount of green energy it uses from one-quarter at present to as much as 60 percent by 2035.
While Germany's green energy drive has won plenty of plaudits for caring about the environment and moving away from fossil fuels, it has come at a cost. Over the next 26 years, Berlin will spend 550 billion euro on developing renewable energy, however, the average German consumer is seeing the price of energy bills rocket.
"It's being sold on the message it's either wind energy or radioactive catastrophe, this plays on fear, and makes money for wind energy providers," Petra Dahms, an anti-wind power activist, told RT in October 2013.
Germany subsidizes renewables to the tune of about $16 billion per year, an innovation that comes at a cost to consumers and industry. After her party's election victory, Chancellor Angela Merkel said she and her cabinet would be reviewing the country's subsidy program.
"One day I saw it almost doubled, I can't understand how this bill can be so expensive for two people," Aminta Seck, a single mother, told RT from her Berlin home.
"Responsibility lies with the government and the power companies, they are so expensive. One of the reasons for price rises is the subsidies being paid out for solar and wind energy," said Seck.