Far-right anti-immigrant party 'real winner' of Sweden election
The general parliamentary election in Sweden on Sunday was 'something of a shock' to the nation. The far-right Sweden Democrats party managed to table the third highest number of votes on the back of their strong anti-immigration policies.
The results of the vote saw a shift to the left after eight years of conservative rule. The Prime Minister Fredrik Reinfeldt, who was the chairman of the ousted Moderate Party, stepped down after his faction saw their share of the vote tumble. It was the Social Democrats who came out on top, but without an absolute majority.
However, perhaps the biggest winners of the night were the anti-immigrant far-right Sweden Democrats who emerged in third place and they could now prove to be key in determining the new balance of power. They doubled their share of the vote to 13 percent, proving to be a new force within Swedish politics and according to The Spectator's Fraser Nelson, they were "the only real winners of the general election."
"We are for real" says the Sweden Democrats' election rally poster, behind what looks like a stuffed beaver. #srvalpic.twitter.com/rU90qMPpAl

— Loukas Christodoulou (@Loukas_RS) September 14, 2014
It is something of a chock with the right populist Sweden Democrats with 13% emerging as third largest party of the country.

— Carl Bildt (@carlbildt) September 14, 2014

Having been labeled as "racists" and "extremists," the party which aims to slash immigration by 90 percent, might now have 50 seats in the country's parliament.
"The most important thing is that we become stronger and consolidate our position. We are the only party that questions the current immigration policy of Sweden, I would say that it's the other seven parties that are extremists, Sweden's current immigration policy is extremist," Bjorn Soders, secretary of the Sweden Democrats told RT.
Election celebrations at Sweden's anti-immigrant & Islamophobic party. That's a Swedish& Israeli (!) flag @ggreenwaldpic.twitter.com/OZk1gHIpGX

— Trita Parsi (@tparsi) September 14, 2014

The issue of immigration is a hot topic in Sweden, which receives more asylum seekers per capita than any other European country. 80,000 immigrants from Syria, Eritrea, Somalia, Afghanistan, Iraq and other countries are expected to arrive this year alone - the largest influx in 20 years. Even Reinfeldt has said government finances would be strained due to the cost of new arrivals.
Unemployment is high among immigrants and young people, and the two issues were highlighted last year, when Stockholm was shaken by six days of street violence and protests.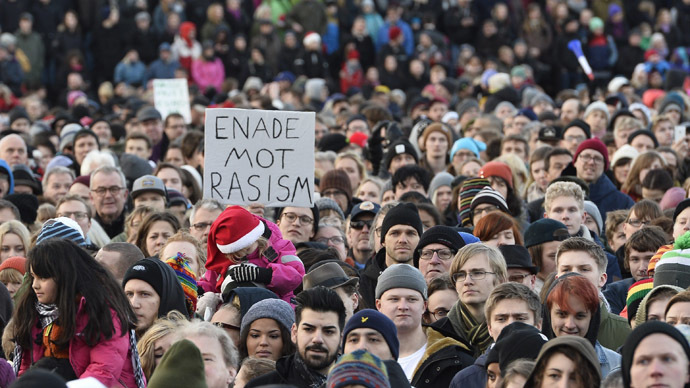 The far-right Sweden Democrats' take on the immigration policy might have struck a chord with voters, as a poll showed more than 40 percent of Swedes don't support their country's current policy relating to refugees.
"They want a change, so they want to vote for a different party, and they find it in Sweden Democrats - that's one thing. And of course the Sweden Democrats and all these parties around Europe provide options for people who do not like immigration and immigrants, so they appeal to some of those people, who did not have a viable political option before these parties came around," Mikael Hjerm, a professor of sociology at UMEA University in Sweden told RT.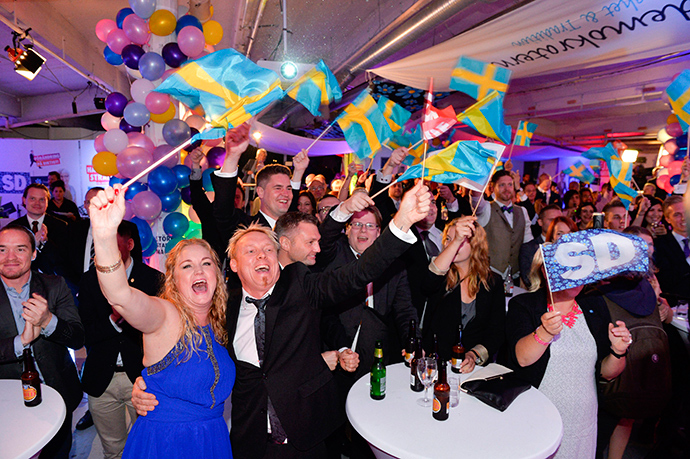 Scandinavia's biggest economy has many pressing issues but it is immigration that appears to be at the head of the queue.
"We are in serious situation. We have thousands of people unemployed, we have school results that are declining more than in any other OECD country," leader of the winning Social Democratic party Stefan Lofven said. "There is something that is breaking. Now Sweden has answered that we need a change."
With the Social Democrats managing to poll the highest number of votes, they will have to make deals with other parties in order to get their legislation passed through parliament.
"We need to make agreements in the parliament - that is the most crucial thing. We've done this before, it's not rocket science," Lofven told RT.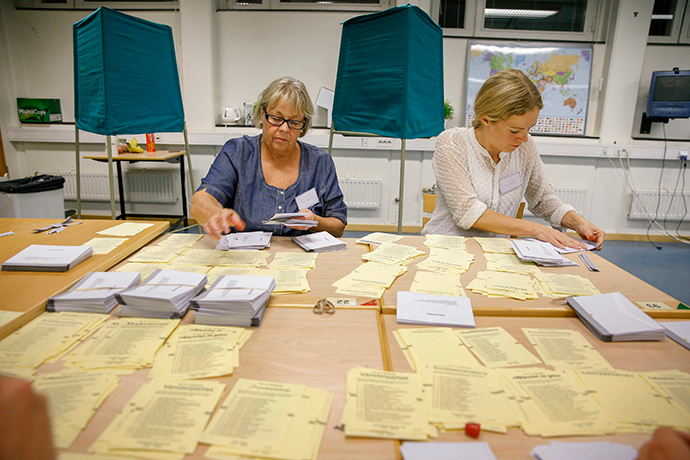 The Sweden Democrats turned heads across the country's political spectrum four years ago, when they managed to get into parliament. However, none of the major parties have so far agreed to enter into a coalition with the faction from the far right.
"This means the main Swedish parties have failed. But we have been their polar opposite before, and we will continue to be polar opposites to all racists," Asa Romson, head of the Swedish Greens commented on the recent vote.
"Alliance government lost, but only populist right won," tweeted Sweden's Foreign Minister Carl Bildt, calling the outcome "problematic."
Problematic election result tonight. Alliance government lost, but only populist right won. Red and green parties far from majority.

— Carl Bildt (@carlbildt) September 14, 2014
The politician also compared the election result to the recent regional vote in Germany, where the Alternative for Germany right-wing party is becoming a growing threat for Chancellor Angela Merkel conservative leaning Christian Democrat Union.
Elections in Thüringen and Brandenburg in Germany also gives ground for concern. The continued rise of the populist right in Europe.

— Carl Bildt (@carlbildt) September 15, 2014
While the rise of the Sweden Democrats has shocked the country's mainstream parties, the far-right force may have difficulty in achieving their main goal of sharply reducing immigration, as all the other parties are in favor of a liberal asylum policy.
However, no one can deny that they enjoy significant support and "the hand is there outstretched," as the leader of the Social Democrats and the new prime minister to be, Stefan Lofven, put it, when commenting on possible coalitions in a new government.
You can share this story on social media: