'We share the same prosecutor': Snowden, Assange & Dotcom team up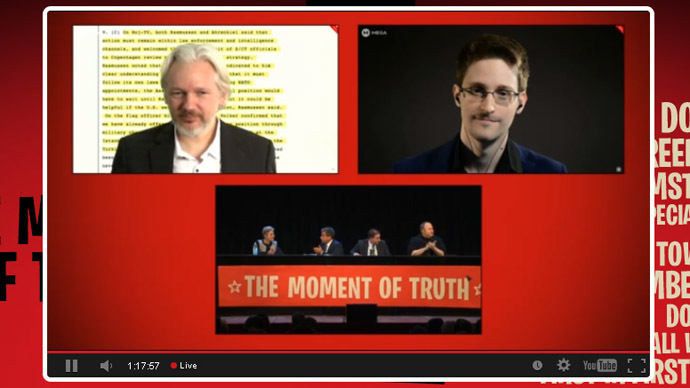 In the first-ever gathering of the world's leading whistleblowers, Wikileaks founder Julian Assange, ex-NSA contractor Edward Snowden and journalist Glenn Greenwald joined internet entrepreneur Kim Dotcom to discuss threats to privacy worldwide.
Snowden: If you live in New Zealand, you're being watched
The whistleblowers came out in support of Dotcom's campaign against unaccountable surveillance by the NZ government, at an event to promote Dotcom's Internet party at upcoming elections.
"We share the same prosecutor,' Assange told Dotcom, referring to attempts by authorities in Washington to extradite both men to face charges in the United States.
Assange accused the US of trying to enforce its laws worldwide. By trying to control other countries' law enforcement systems, the US is "annexing other countries," the whistleblower said.
New Zealand is being effectively annexed - #Assange#MoT#IndependentNZ Our policy to change this: http://t.co/tljN5dpEV9

— Internet Party (@InternetPartyNZ) September 15, 2014
The participants of the conference lashed out at the so-called "Five Eyes" alliance – the US, UK, Canada, Australia, and New Zealand – with Julian Assange describing it as "not an alliance of countries but an alliance of intelligence agencies operating within those countries."
Dotcom said the activists at the conference wanted "to close one of the Five Eyes," referring to New Zealand, which currently is facing a fierce debate on mass surveillance with Prime Minister John Key, denying it has taken place, while whistleblowers accuse him of lying.
Glenn Greenwald rattles New Zealand with 'spying' claims
John Key had a war of words with Greenwald over the surveillance issue. The prime minister accused the journalist of being paid by Kim Dotcom to make his accusations, and then referred to Greenwald as a "loser."

"If this loser is going to come to town and try and tell me, five days before an election, staying at the Dotcom mansion with all the Dotcom people and being paid by Dotcom, that he's doing anything other than Dotcom's bidding – please don't insult me with that," Key told Mike Hosking at the Newstalk ZB Breakfast.
Greenwald has denied being paid by Dotcom, and has accused Key of constantly changing his story. The journalist wrote on Twitter that he was "not going to sink to the Prime Minister's level by name-calling."
Not every day one has to say in an interview: "I'm not going to sink to the Prime Minister's level by name-calling." But that's @johnkeypm.

— Glenn Greenwald (@ggreenwald) September 14, 2014
The whistleblowers have all protested the idea of governments engaging in "backroom deals" while drafting laws on intelligence.
Maybe people would have said OK to mass surveillance for the sake of their own protection, but they have never been asked for their opinion, Edward Snowden said, adding that such decisions "should not be made behind closed doors."
"These are things that the public has not just the right, but the responsibility to know," Snowden said.
The former NSA contractor reiterated his earlier claim that New Zealand's security agency, the Government Communications Security Bureau (GCSB), not only carried out mass surveillance but actually "contributed to the development of XKeyscore," a major NSA tool for snooping.
Dotcom said he was trying to fight mass surveillance politically and technologically: by participating in New Zealand's elections and by encrypting online content.
He said both Assange and Snowden were able to join the meeting via encrypted video-conferencing software.
The event has also turned into something of an online popularity contest for whistleblowers, as a large number of comments on Twitter were about which of the participants was the best in making his point.
Assange not nearly as rockstar as Snowden or Greenwald. #MoT

— Andrew Chen (@andrewmeows) September 15, 2014
Rated in descending order of sexiness of their brains: #Snowden, #Greenwald, #Assange. All total 10s though.

— Melody Thomas (@WriteByMelody) September 15, 2014
Assange has good content, but sadly not as elegant as Snowden and Greenwald.

— Jethro Carr (@jethrocarr) September 15, 2014
You can share this story on social media: