​Anticipate auroras: Second solar storm sweeps Earth after 'extreme' sun flare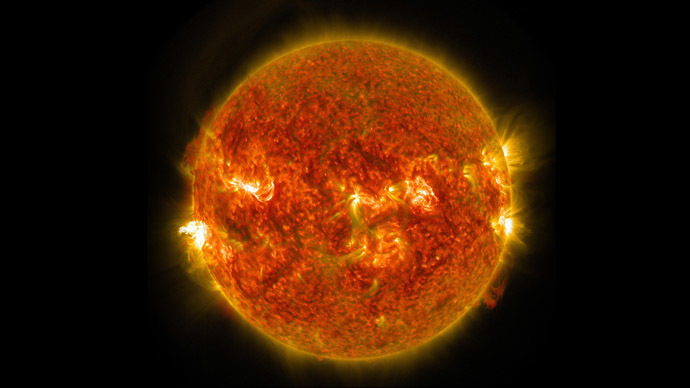 Another extreme solar storm has struck Earth after two solar flares took place on an Earth-facing part of the sun. The two powerful blasts from the sun took place Wednesday, with the first storm hitting late Thursday.
"The second of the expected coronal mass ejections (CMEs) has arrived, and arrived in good agreement with the predicted arrival times," the National Oceanic and Atmospheric Administration's (NOAA) Space Prediction Weather Center announced in Colorado.
The blasts were estimated at X1.6, putting it in the strongest 'extreme' class of solar flares.
The solar flare was accompanied by the release of superhot plasma, a coronal mass ejection (CME), with the first cloud reaching Earth late Thursday. Luckily, most of it is expected to pass north of Earth, causing a relatively weak solar storm.
It was launched from a sunspot called Active Region 2158 and was caught on camera by NASA's Solar Dynamics Observatory spacecraft, reported Space.com. The same region produced a smaller flare a day before that.
Unusual aurora light displays are being anticipated, with aurora borealis – also known as Northern Lights – expectedto be seen in northern parts of the US and Europe, as well as in Moscow, St. Petersburg and other parts of Russia's central regions.
The effects of the second solar storm are also expected to include disruptions to the Earth's power grid - power lines, radio transmissions, communication systems and satellites may be affected.
However, scientists don't seem worried. "We're not scared of this one," Tom Berger, director of the Space Weather Prediction Center in Boulder, Colorado, told the Associated Press.
The US National Weather Service has issued a 'geomagnetic' storm watch until Saturday.
"Geomagnetic storms can cause some problems for the (power) grid but are typically very manageable," Bill Murtagh, a space weather forecaster for NOAA, told USA Today.
"A G3 (Strong) Geomagnetic Storm Watch is still in effect for September 13th" said NOAA.