Largest known prehistoric predator turns out to be uniquely semi-aquatic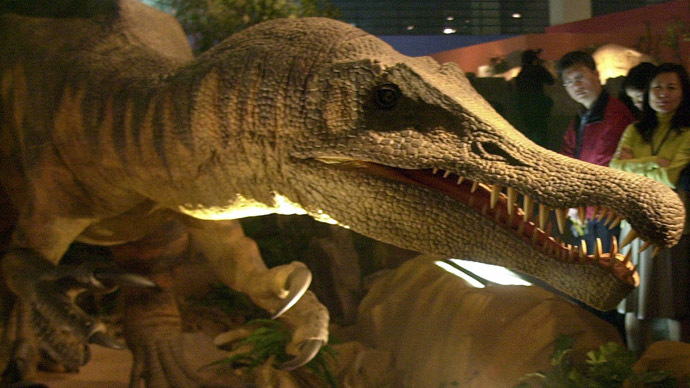 You might recognize Spinosaurus, the gigantic dinosaur from Jurassic Park 3, as a fierce land predator that could dethrone the Tyrannosaurus Rex, but it now turns out the timorous beastie was also part-duck and a formidable aquatic killer as well.
"If we base the ferocious factor on the length of the animal, there was nothing that ever lived on this planet that could match this creature," paleonthologist John R. Horner said in the film.
Though Horner was a fictional character, scientists agree that a fully grown Spinosaurus could stretch to 15 meters and weigh over 20 tons – way bigger than the largest T. Rex ever discovered.
Now, new evidence gathered in the Moroccan Sahara and published on the Science Express website suggests the ferocious creature actually roamed prehistoric rivers as well, more so than land. The place used to be a large river system.
The fossils point to a primarily aquatic existence and reveal Spinosaurus to be the first of its kind to adopt a semi-aquatic lifestyle. It was almost certainly predatory toward sharks and other large fish, and when it swam, all you could see was the large fin on its back.
"The animal we are resurrecting today is so bizarre, it's going to force dinosaur experts to rethink many things they thought they knew about dinosaurs," said Nizar Ibrahim, a real-life paleoanthologist at Chicago University. Although theories about this type of lifestyle for Spinosaurus have existed for some time now, the chemical signature on its teeth pointed to a marine diet, Chinese scientists discovered.
The new research is, however, more conclusive. The Spinosaurus, it turns out, is the only known dinosaur to show the following adaptations to living and hunting underwater:
- small nostrils and a crocodile-like snout and skull, to allow for breathing underwater;
- flat claws, which hint at webbed feet, ideal for paddling, the way a goose might;
- peculiar teeth for a land predator, shaped more for biting into softer prey, such as sharks and other large fish;
- an elongated neck and trunk, that allowed the creature to shift its center of mass forward (thus making walking on land much more difficult than swimming); and
- a small pelvis and short hind legs, resembling the earliest whales much more than similar land predators.
"Working on this animal was like studying an alien from outer space," said Ibrahim, who led the new study. "It's unlike any other dinosaur I have ever seen."

It was first dug up in the early 20th century, but that at time scientists had fewer ways to fully study the 95-million-year-old creature. Then, the Munich museum where the fossils were kept was bombed during WWII.
There were other fossil hunts, and to discover the newer fossils, Ibrahim had to find another fossil hunter who got to the latest fossil first. Then the team set about creating a digital model of the entire skeleton, using CT scans and digital recreations of earlier specimens.
"We relied upon cutting-edge technology to examine, analyze and piece together a variety of fossils. For a project of this complexity, traditional methods wouldn't have been nearly as accurate," said Simone Maganuco, another member of the study team.