Julian Assange lodges appeal against Swedish arrest warrant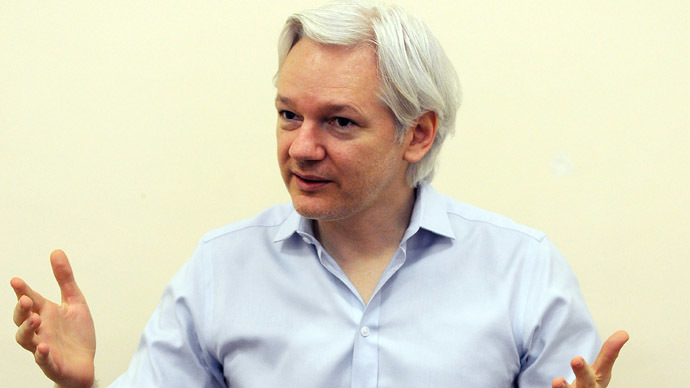 Wikileaks founder Julian Assange has filed an appeal against the Swedish warrant for his arrest, Swedish media reports. His lawyers are arguing that the prosecutors are acting "in gross breach of Swedish law."
Assange's Swedish lawyer, Thomas Olssen, has claimed that the Swedish court is not handling the case correctly.

"We argue against the district court's decision and believe they do not properly take account of the situation," Olssen stated, according to Swedish daily Svenska Dagbladet.

Assange's lawyers, who argue that Assange should be questioned by Swedish police in London, argue that Sweden's prosecutor "is in gross breach of Swedish law" for not making the journey to London to interview Assange, the Guardian reported.

"Julian Assange has been kept under house arrest for two years with no medical treatment, no sunshine, no family, no nothing, and this harm should be taken into account when applying Swedish law," Per Samuelsson, a lawyer for Assange in Stockholm, told the UK-based newspaper.

In July, a Swedish court upheld Assange's arrest warrant after a previous legal challenge from Assange's lawyers which took place in June.

The challenge was spurred by a change to Swedish criminal proceedings regarding the right to information in criminal procedures which brings the country in line with an EU directive.

Swedish Judge Lena Egelin was quick to dismiss the legal challenge to Assange's arrest warrant and Assange remained suspected "on probable cause" for rape, the less serious crime of unlawful coercion and two cases of sexual molestation.

However, the judge noted that the decision could still be appealed – as was done on Friday.

It is likely that a judge will make the decision next week as to whether to hold an oral hearing or make a ruling on the case based on existing documents, a spokesperson for the Stockholm district court noted.

Samuelsson told the Guardian that the timing of the appeal was not necessarily a coincidence; Sweden is in the midst of a tight general election campaign and a change of government is possible.

Julian Assange entered London's Ecuadorian Embassy in June 2012 after he was offered asylum by Caracas.

He has been holed up in the embassy since. The building is watched around the clock by British police who are ready to place him under arrest should he attempt to leave.

In August, Assange cryptically hinted, however, that he might leave the embassy "soon".

"I am leaving the embassy soon, but perhaps not for the reasons [reported]," he told journalists at a press conference, refusing to clarify the reasons.

Assange was scheduled to model for Vivienne Westwood at a fashion show at the Ecuadorian Embassy this week, to be held as part of London Fashion Week. However, he had to cancel on account of ill health.

"Julian couldn't do the event this week due to ill health," a spokesperson for Westwood told The Independent on Thursday.
You can share this story on social media: