15 more countries at risk of Ebola contamination – Oxford University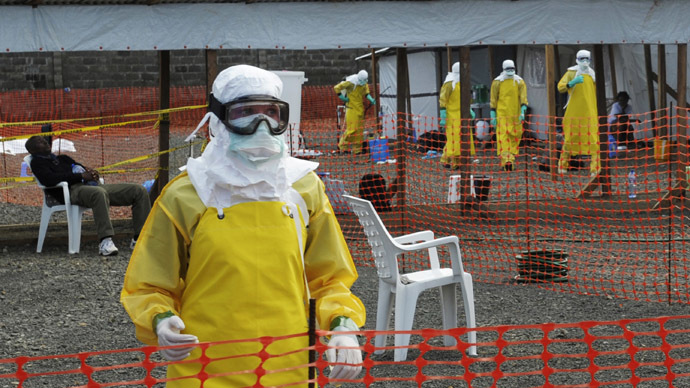 The deadly Ebola virus could spread to 15 new countries, according to calculations made by Oxford University. This is because there are species of fruit bat that are suspected of carrying the disease without displaying symptoms.
The new study is published in the eLife journal, and examines how the disease could spread through the animal kingdom and to human beings.

Fruit bats can carry the disease without showing any signs of it, and are able to migrate and transfer it to other animals, for example monkeys and rodents.

"A total of 51 surveyed locations reporting infections in animals were identified in the literature since the discovery of the disease. These comprised 17 infections in gorillas (Gorilla gorilla), nine infections in chimpanzees (Pan troglodytes), 18 in OWFB (old world fruit bat) and two in duikers," the study says.

Monkeys can be used as a form of bushmeat – meat from wild mammals. While consumption may not necessarily cause Ebola, preparation of raw infected meat increases the chance of infection.

Countries stated as being at risk from Zaire – one Ebola's five known strains and the most contagious – are listed in the study. "These are Nigeria, Cameroon, Central African Republic (CAR), Ghana, Liberia, Sierra Leone, Angola, Tanzania, Togo, Ethiopia, Mozambique, Burundi, Equatorial Guinea, Madagascar and Malawi," the study says.

These countries are in addition to the seven existing countries which have reported outbreaks of the disease.

"We assembled location data on all recorded zoonotic transmission to humans and Ebola virus infection in bats and primates (1976-2014)," the study's authors say in an abstract, explaining that the study was compiled using species distribution methods. "These occurrence data were paired with environmental covariates to predict a zoonotic transmission niche covering 22 countries across Central and West Africa," they say.

"Our map shows the likely 'reservoir' of Ebola virus in animal populations, and this is larger than has been previously appreciated," study author Nick Golding, a researcher at Oxford University's Department of Zoology, told the Wall Street Journal. "This does not mean that transmission to humans is inevitable in these areas; only that all the environmental and epidemiological conditions suitable for an outbreak occur there."

Other Ebola strains – Sudan, Taï Forest and Bundibugyo – have been reported in the Ivory Coast, Sudan and Uganda previously. According to the World Health Organization, one strain – Reston – has not instigated any outbreaks.

On Tuesday, it was reported that the human death toll from the disease had jumped by 200 in a single day, up to 2,296. The WHO said that, as of when the statistics were presented, it was likely that there had been further fatalities as a result of Ebola.
You can share this story on social media: