Russian coastal defenses in Crimea stage target practice amid NATO drills in Black Sea (VIDEO)
The Russian Black Sea fleet has carried out a successful test of its new-generation Bastion coastal defense system, as part of naval exercises Moscow says were pre-scheduled and not timed to coincide with the current NATO drills in the basin.
The Defense Ministry said that 15 ships, over 10 planes and helicopters, and coastal guns took part in scheduled drills out of Sevastopol on Tuesday. The centerpiece was a demonstration of the post-Soviet Bastion – NATO call sign SSC-5 "Stooge" – anti-ship cruise missile complex.
"The target practice in the firing range to the south-east of Sevastopol was carried out by the cutting-edge Bastion complex. The targets, which symbolized a navy squadron, were also attacked by four Su-24 jets. All missiles hit targets, which were destroyed," said a statement from the Defense Ministry.
While Moscow insists that the format of the exercises had been planned in advance, they come one day after a controversial incident that ratcheted up tensions in the Black Sea, which is bordered by Crimea and Ukraine in the north.
On Monday, NATO accused three Russian jets of buzzing – flying closely overhead – a Canadian ship taking part in its own exercises. Canada's Defense Minister Rob Nicholson said the maneuver was "unnecessarily provocative."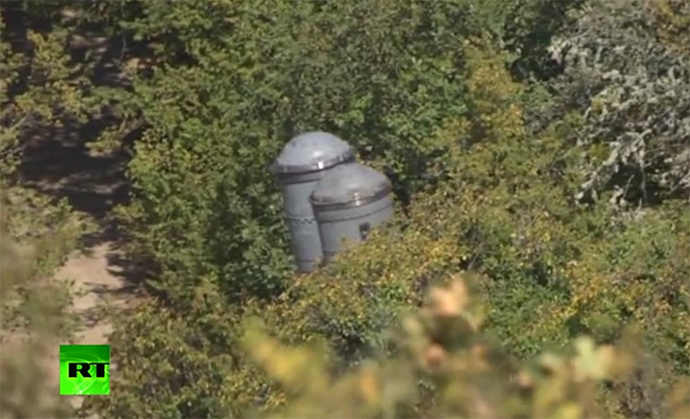 Moscow denied purposely aggravating NATO personnel, saying the jets did not approach and asserting that their presence in the vicinity was "in line with international regulations."
The three day "reassurance exercises" are being conducted jointly by NATO and Kiev and have involved four ships, though none of them entered a Ukrainian port. Nicholson claimed the unscheduled drills are the "direct result of the Putin regime's military aggression and invasion of Ukraine."
NATO is also conducting exercises in the Baltic, and plans to stage land drills in Ukraine before the end of the year. The alliance also announced the creation of a new eastern European force after a summit in Wales last week.
Moscow has responded negatively to all NATO initiatives, accusing it of destabilizing the fragile situation in Ukraine, and paving the way for bloc's eastward expansion. Russia's NATO envoy, Aleksandr Grushko, said that NATO used the crisis in Ukraine as a pretext to step up its military presence near Russian borders, describing the alliance's role in the Ukrainian conflict as "extremely destructive."
You can share this story on social media: