Ukraine ceasefire holds for shaky peace to last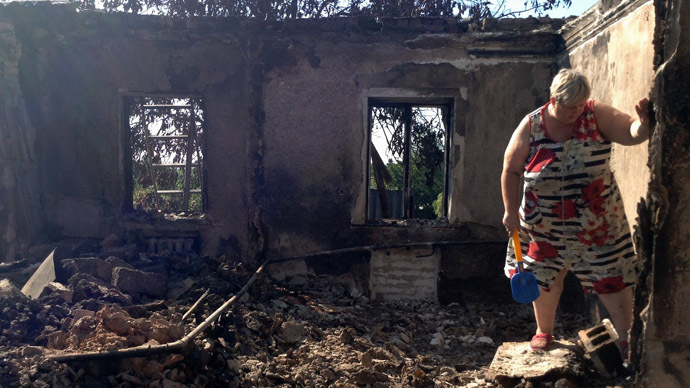 The ceasefire between the Ukrainian army and self-defense forces is "still shaky, but holds," the OSCE stated. The fighters are still skeptical of the peace process, but they are hoping for the war to end.
"People who have never seen this think war is like TV. You watch and forget because there's some entertainment show later. Here, everything is reality. Here, people are dying in front of your eyes," one of the fighters nicknamed Gvozd told RT.
RT's Paula Slier caught up with fighters in military barracks in eastern Ukraine. Many came to fight for the anti-government forces as volunteers, leaving their wives and children behind.
"Yesterday we buried a friend. He was killed when a tank fired from a hundred-meter distance. His nickname was electron, and the night before the battle, we sat together and smoked in the trench. In the morning, he died," fighter Gvozd said.
War is a brutal reality facing all the fighters, and they don't see a quick end to the violence and deaths – there have been too many.
"The Ukrainian army… I am ashamed of their actions. We didn't come to western Ukraine and begin destroying what they built. They came to our land," another fighter, nicknamed Svarnoy, said.
Not everyone, however, is desperate. A militiaman nicknamed Antonio said that he believes the truce will hold.
For more watch Paula Slier's report
As the truce holds shakily, the Kiev government accused the self-defense forces of sporadic fighting in Mariupol overnight.
The ceasefire came into effect on Friday evening, and is part of a peace roadmap aimed at ending the bloody conflict, which has killed over 3,000 people during the last five months.
Part of the peace plan calls for an exchange of prisoners of war and the self-defense forces maintain the "all-for-all" exchange is going to happen.
"Overall the ceasefire held even though it is still shaky," Ambassador Thomas Greminger of Switzerland, the current chair of the OSCE told Reuters, adding the next days would be crucial.
You can share this story on social media: