Mrs. America 2015 to be held in Crimea, Miss Ukrainian Diaspora pageant objects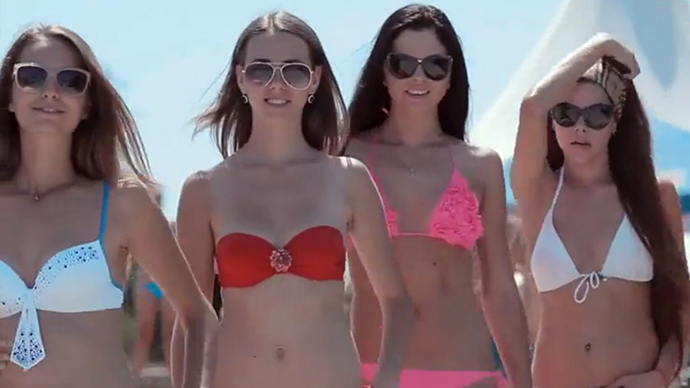 One of America's biggest beauty pageants, Mrs. America, will be held in Crimea next year. The scheduled contest, confirmed by both US and Russian organizers, has been condemned by another beauty pageant – Miss Ukrainian Diaspora.
The decision to hold the 39th Mrs. America pageant far beyond the country's borders – in the city of Sevastopol in Crimea – was announced at the contest's latest final in Tucson, Arizona.
The capital city of the Crimean peninsula, which in March voted to join Russia, will welcome two beauty pageants at once: Mrs. America 2015 will take place in conjunction with the national Mrs. World Russia 2015.
David Marmel, president of the Mrs. America and Mrs. World pageants, said that 51 representatives (one from each of the US states plus the District of Columbia) will travel to Sevastopol with their husbands, children, and friends, who will come to cheer them on and relax on the Black Sea Coast. Marmel added that the event will show the world that Crimea is a "safe, hospitable, and peaceful place."
The joint "double beauty" pageant also aims to celebrate the 25th anniversary of a similar event, when the then-Soviet government invited the married winners of beauty contests from all American states to compete with the same number of Russian women. According to the organizers, it "helped build a bridge between the US and the Soviet Union."
"Back when a married woman's place was in the home and only in the home, when pageant people cared only about the young, single and unattached, Mrs. America put the married woman on a stage," American actress and singer Florence Henderson said at the recent Mrs. America event, adding that the idea to bring together beautiful women from the two countries "was a great idea then and...it's a great idea now."
"History will repeat itself, only bigger and better, and more exciting than ever before. We will take the ladies from Moscow to the Black Sea coast, [to bring] Mrs. America and Mrs. Russia together again – and hopefully together always," Aleksey Kuznetsov of Russia's organizing committee said.
However, the idea did not go down smoothly in the US. Miss Ukrainian Diaspora, a Ukrainian-American pageant organization based in Chicago, stood up against the initiative, saying it was "deeply concerned" and "urged Mrs. America to reconsider its decision."
We ondemn the initiative taken by #MrsAmerica to hold its 2015 pageant in #Crimea --> http://t.co/bBvSKPtR1Lpic.twitter.com/8Je5ERUBmg

— Miss Ukrainian Diasp (@MissDiaspora) September 5, 2014
"Miss Ukrainian Diaspora condemns the initiative taken by Mrs. America to hold its 2015 pageant in Crimea and meanwhile referring to Crimea as Russia - a statement which supports illegal annexation of another sovereign nation's territory," a statement published on the group's Facebook page says.
When asked about such political implications, Mrs. America's David Marmel said he wasn't dwelling on the negative because his competition was about fostering peace.
Mrs. America holds the national competition every year, and the winner goes on to compete in the Mrs. World pageant.
The pageant has an estimated TV audience of 70 million viewers each year. Organizers say that all events related to the beauty contest in Crimea, including its final, will be broadcast in over 70 countries.
"When I think about Russia, I imagine it as a country that has hosted the Olympic Games, a country with a prevailing cold climate, where bears live," Laurett Ellsworth Arenz, the Mrs. America winner in 2002, said. "But I do understand that there is a lot more to learn about Russia and I'm excited to be visiting Sevastopol in 2015."