​'Idolatry': Venezuela Catholic Church slams Lord's Prayer homage to Hugo Chavez
Published time: 5 Sep, 2014 07:33
Edited time: 5 Sep, 2014 07:38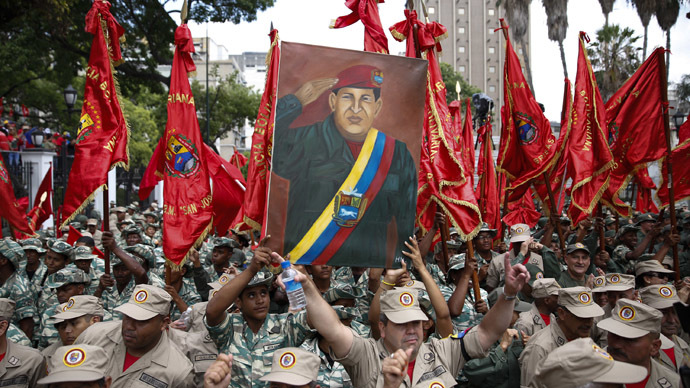 Venezuela's Roman Catholic Church has condemned the re-writing of Lord's Prayer into 'Our Chávez who art in heaven' ode by the late leader's Socialist Party, saying the move is 'the sin of idolatry.'
The Lord's Prayer, the typical prayer for Christians around the world, comes from the very lips of our Lord Jesus Christ and is therefore untouchable, said the Archbishop of Caracas, Cardinal Jorge Urosa.
Urosa added that, "Whoever says this new and inappropriate version of the Our Father adhering to the literal text is committing the sin of idolatry, by attributing to a human person qualities and actions that are proper to God."
"Just as no one would be allowed to change the words of the national anthem in order to honor somebody, neither is it licit to change the Our Father or any other Christian prayer, such as the Creed. The Catholic religious symbols, prayers, and elements must be respected," he said.
On September 1, a representative of Venezuela's Socialist Party, María Uribe, revealed 'The Delegate's Prayer' homage to the late leader.
"Our Chavez, who art in heaven, the Earth, the sea, and we, delegates, hallowed be thy name. Thy legacy come, so we can spread it to people here and elsewhere. Give us this day light to guide us," she said in front of Chavez's image.
"Lead us not into the temptation of capitalism; deliver us from the evil of oligarchy, like the crime of contraband, because ours is the homeland, peace, and life. Forever and ever. Amen. Viva Chavez!" she exclaimed to applause.
In the meantime, current president of Venezuela Nicolas Maduro, who has always supported Chavez, said that the church is trying to undermine the late leader even after his death.
"They couldn't get rid of Chavez while he was alive so now they want to persecute the people's spiritual love for him," he said.
"A new inquisition has emerged to massacre this humble woman," he said referring to Uribe, the delegate who recited the prayer.
Chavez the president engaged in numerous arguments with the hierarchy of the Roman Catholic Church. In 2002 the church supported Venezuelan coup d'état attempt against Chavez which lasted two days.
Hugo Chavez, who was in power for 14 years, died in March, 2013, at the age of 58 following a two-year battle against cancer.