Kiev & self-defense forces ready for Friday ceasefire if Minsk talks successful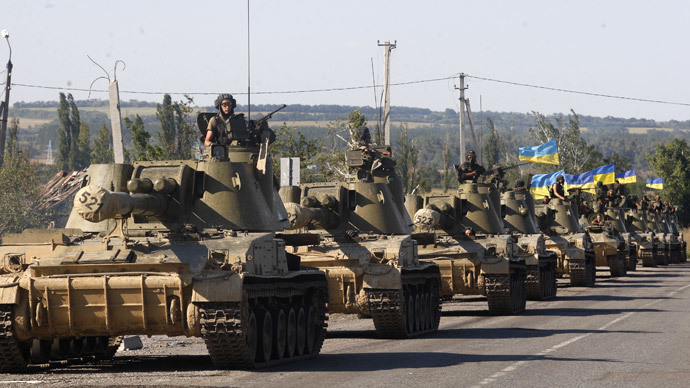 The Ukrainian president and the heads of the self-proclaimed People's Republics of Donetsk and Lugansk have said they are ready to order a ceasefire if peace talks in Minsk, Belarus on Friday are successful.
"At 14:00 local time (11:00GMT Friday), provided the [Minsk] meeting takes place, I will call on the General Staff to set up a bilateral ceasefire and we hope that the implementation of the peace plan will begin tomorrow," Petro Poroshenko said on the sidelines of a NATO summit in Wales on Thursday.
On Wednesday, Poroshenko expressed "great hope" that the peace process in Ukraine will commence in Minsk on September 5, when representatives of Kiev, Moscow and OSCE (Organization for Security and Co-operation in Europe) are scheduled to meet.
#Ukraine war death toll: 837 soldiers, 3000+ wounded - Security Council http://t.co/4EAnNL9D5Opic.twitter.com/RJJJpRwRfp

— RT (@RT_com) September 4, 2014
The self-proclaimed People's Republics of Donetsk and Lugansk are "ready to order a ceasefire tomorrow on September 5, 2014 at 15:00 local time (12:00GMT) if agreement is reached and the Ukrainian representatives sign up to the plan for a political settlement of the conflict," the leaders of the two republics said in a joint statement.

The People's Republics of Donetsk and Lugansk "will also present their proposals on the ceasefire, which would describe in detail the guarantees of implementation of the truce by the sides involved in the conflict, to the contact group in Minsk on Friday," the statement added.
The announcements pave the way for implementing the 7-step peace plan, which was proposed to the conflicting sides by Russian President Vladimir Putin on Wednesday.
READ MORE: Putin lays out 7-step plan to stop hostilities in E. Ukraine
The Russian president's proposals envisage: a the halt to the militia's advances in the Donetsk and Lugansk Regions; withdrawal of Kiev troops to a distance that makes shelling impossible; objective international control over the ceasefire; a ban on the use of combat aircrafts against civilians; unconditional prisoner exchange; organization of humanitarian corridors, and provision of direct access for repair crews to destroyed infrastructure.
The heads of the self-proclaimed People's Republics of Donetsk and Lugansk said that they are ready to implement the ceasefire at 11:00GMT on Friday, on condition that Kiev subscribes to the plan for a political settlement to the conflict.
Ukraine has been engulfed in violent internal conflict since April, when Kiev's military began its crackdown on the southeastern regions of the country.
According to United Nations' estimates released on Tuesday, over 2,249 people have been killed so far and more than 6,033 wounded in the fighting in eastern Ukraine.
The number of internally displaced Ukrainians has reached 190,000, with another 207,000 finding refuge in Russia, the UN said.
You can share this story on social media: