Obama & State Dept. contradict each other on 'Russian troops in Ukraine' - Putin's spokesman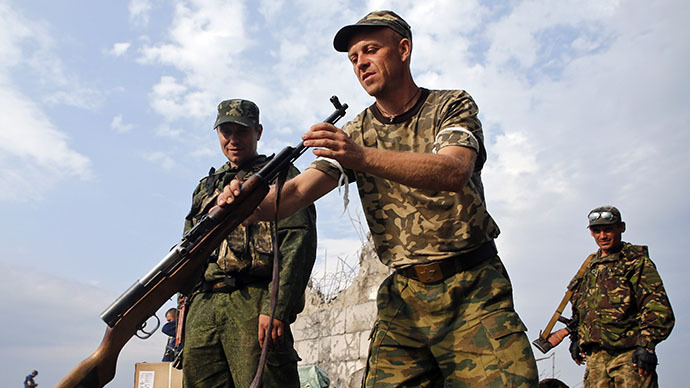 The US President says it is now "provable" that "Russian combat forces and tanks" moved into Ukraine. But Kremlin says Obama's words are in conflict with the State Department that said it has no proof of Russian troops in the area.
A statement from the Russian president's spokesman Dmitry Peskov came in response to Barack Obama's address to the Baltic States' leader. Speaking ahead of NATO summit, President Obama said that the US has no doubt that Russian troops are involved in the fighting in eastern Ukraine.
"The Russian forces that have now moved into Ukraine aren't on a 'humanitarian' or 'peacekeeping mission.' They are Russian combat forces with Russian weapons in Russian tanks. There are Russian warheads with Russian weapons and Russian tanks. Now, these are the facts. They are provable. They're not subject to dispute," Obama said at a press-conference in Tallinn.
However, this information comes into conflict with the recent statement of the US State Department, Peskov said.
"We have repeatedly said there are no Russian troops on the territory of Ukraine. While Obama says there can be no doubts about that, US Department of State officials say simultaneously with their president that the United States has no proof of Russian military presence in Ukraine. This situation underscores their reluctance to use facts," the Russian president's spokesman Dmitry Peskov told the Russian News Service radio station.
"It's an obsession with attributing a negative role in the development of the Ukrainian crisis to Russia, and we strongly object to this," Kremlin's spokesman added.
On Tuesday the US State Department spokeswoman told reporters that the US does not have "anything new to confirm" that Russian military moved into Ukraine.
The only information the US has on the movement of Russian troops across the Ukrainian border was "confirmed" last week, Jen Psaki said, referring to NATO's satellite images released as a "proof" of Russia's military involvement in Ukraine.
Remember Iraq? Former US intel officers warn Merkel against NATO images of Ukraine
The images were ridiculed by Russia's Defense Ministry, while an alliance of seven former US intelligence officers - the Veteran Intelligence Professionals for Sanity (VIPS) – said the evidence produced by NATO from the Ukrainian-Russian border was on a par with the "same dubious, politically 'fixed' kind used 12 years ago to 'justify' the US-led attack on Iraq."
'Many of our comrades can't look quietly'
On Wednesday, Russian veterans have called to end speculations around those Russian men who voluntarily joined east-Ukrainian rebels in the fight against Kiev.
"These are not adventurers, not criminals, not mercenaries, these are Russian people, who have it already laid down in their genes: to help our friendly nations in a difficult situation. We understand that this internal conflict or civil war in Ukraine is not Russia's business. But this way Russia [through volunteers] has a right to help," said Colonel-General Valery Vostrotin, the chairman of the Council of the Moscow Department "Battle Brotherhood".
Several veterans' organizations have issued a statement in which they explained what makes them, retired military servicemen, take arms again.
"Many of our comrades can't look quietly [at what is happening in Ukraine] and take part in this conflict," Igor Shevchuk, a veteran of Alpha special forces, said.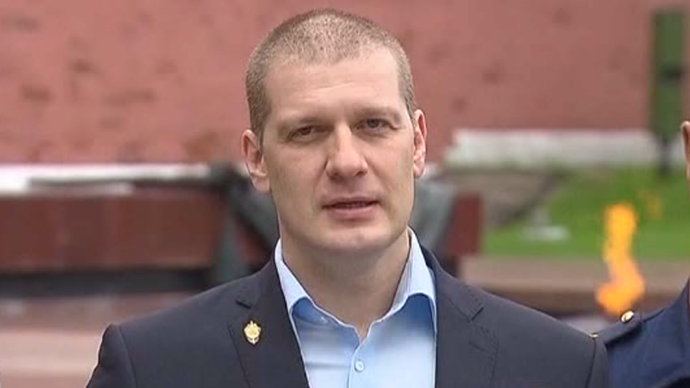 A retired Russian officer Vladimir Melnik is one of those men. He is now undergoing treatment in Moscow after being injured in leg in Ukraine.
He does not call himself a hero. For him, born and raised in the Donetsk region, when it still was part of the USSR, supporting rebels in his native land is a duty. His relatives and friends still leave there. Melnik says he could not leave them in trouble.
"If somebody intrudes into you house, starts killing your brothers, your sisters, raping your women, killing your children and rob elders how would you react to this? I understand that this is, primarily, a spiritual struggle; looking at what is happening in the world today, I would not like to stand and watch as our Orthodox people are being killed in their own home," he says.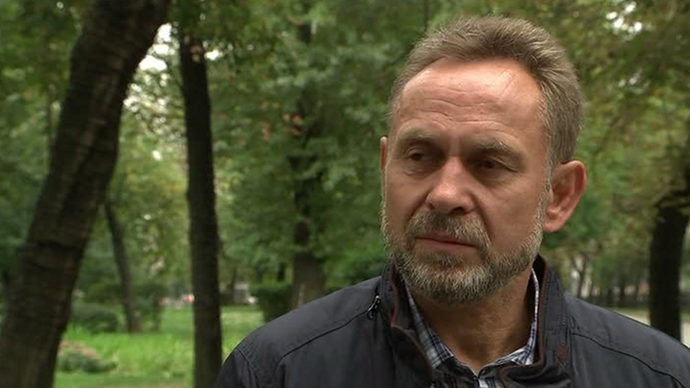 Melkin says there are many volunteers - former military personnel like him - fighting along with self-defense forces in the south-east of Ukraine.
"There are many of us and more people were ready to come. For now, Thank God, we are coping [with the situation] with the tools we have," Melnik says.
When asked if he was paid or offered anything for coming to Ukraine, he says: "If I came to my father and said: Dad, I'm here to protect you from fascists for money, he would not understand me, neither would others. I wouldn't have any respect to myself as well."
Melnik says it was tough for eastern Ukrainian men "to leave their mines" and take arms, but now, thanks to the experience which people with military background shared, they "understand more."
Asked about military equipment, Melnik confesses that everything rebels have is old, "from the Soviet time", but this is enough to hold the fort.
"It is not difficult to find arms in Ukraine," he says. "There are many ammunition depots left after the Soviet Union. It is old, from Soviet times. Yes, guys had to repair some of it or replace some of the details, but it works."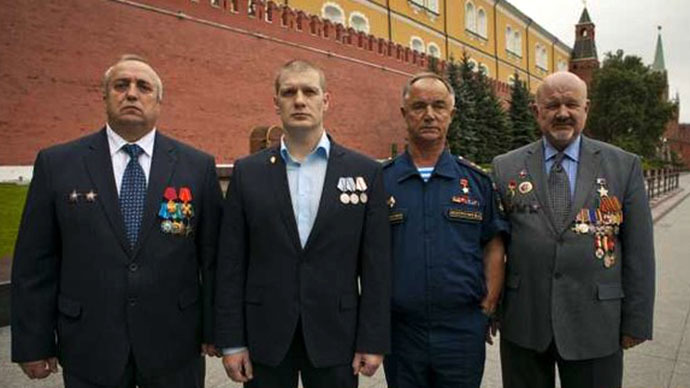 OSCE: No armed men crossing Ukraine border
OSCE's observer mission has indicated in its latest report that it has not witnessed any Russian troops or tanks crossing the border into Ukraine.
What it did record, however, was an increased presence of unmanned aerial vehicles and young men and women crossing from Russia into Ukraine unarmed.
There has been "increased military activity principally of unmanned aerial vehicles (UAVs) in the vicinity of the Border Crossing Points," OSCE said in the weekly update from August 28 to September 3.
"Throughout the week, the OTs [Observer Teams] noticed a net increase of young people (both men and women) wearing military-style dress crossing the border in both directions but did not observe any weapons among these groups."
OSCE noted that supporters of self-defense forces said they are not allowed to cross the border with weapons. But once they cross into Ukraine, weapons can be obtained from self-defense forces.
The observer mission added that situation in Lugansk remains "dire." OSCE cites accounts of "severe destruction caused by artillery fire which resulted in the interruption of water, gas and electricity supplies, the latter apparently unavailable for more than five weeks in some areas including Lugansk city itself."
You can share this story on social media: