Preliminary MH17 crash report to be published within a week – investigators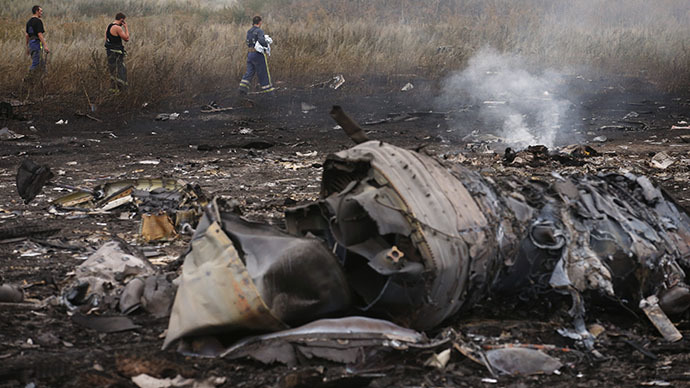 A preliminary report on the reasons behind the Malaysia Airlines MH17 crash in eastern Ukraine will be released within days. However, it will take one year to perform a full investigation which will answer all questions, the Dutch Safety Board (DSB) said.
The report will be ready at the end of the week or early next week, DSB spokeswoman Sara Vernooij said.

The document will shed some light on the cause of the tragedy, though many questions will remain unanswered, she stressed.

According to Vernooij, the preliminary report will include the first results from the flight recorders and data from other sources such as satellites and radars.

As for the full report, "it'll take about a year to complete," she said, adding that it is likely to be published in summer 2015.

The spokeswoman stressed that all of the agency's specialists involved in the investigation have been working from The Hague, as the final report can be prepared without a visit to the crash site.

However, DSB still plans to send experts to Ukraine, when the area around the crash site becomes safer. She added that they will examine certain debris and confirm available data on the ground.

The Dutch investigation is being executed in accordance with the norms and standards of the International Civil Aviation Organization (ICAO), Vernooij said.

All 298 people aboard the Malaysia Airlines jet died as it crashed in Ukraine's Donetsk region on July 17. The majority of those on the plane – which was allegedly shot down – were citizens of the Netherlands.

Both sides involved in the Ukraine conflict – the government and militias which refused to recognize the February coup in Kiev – accuse each other of bringing down the aircraft.

It was initially alleged that the plane was destroyed by a surface-to-air missile. However, claims were also made that the flight was shot down by a military jet which was in the area at the same time.

The investigation of the tragedy was hampered by fighting in the area around the crash site, with Kiev and rebels accusing each other of attempting to conceal the facts.
You can share this story on social media: