Dutch investigators to RT: 'We had no possibility to visit the MH17 crash site'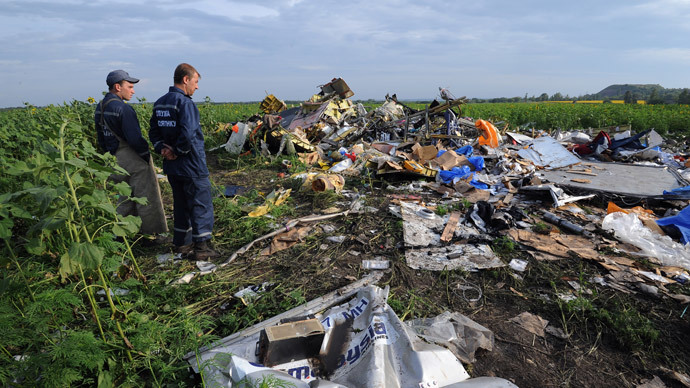 Dutch experts who have taken the leading role in the MH17 plane crash investigation are not able to reach the crash site in eastern Ukraine, a spokesperson of the Dutch Safety Board told RT.
RT:Have your experts already been to the MH17 crash site in the Donetsk Region?
Wim van der Weegen: No, our Dutch investigators have not been there yet. Since the Dutch Safety Board took over the leadership of the investigation on July 23, there has been no possibility for us to visit the crash site.
RT:Why is there no possibility? Are there security reasons behind that?
Wim van der Weegen: Two things: first, yes, safety; second – we don't decide on our own whether our investigators can leave for the crash site. We depend on the information and analyses from the Dutch Ministry of Safety and Security and the Dutch Ministry of Defense. So, we rely on their information on whether it is safe or not to go to the crash site. If we get positive insights, we can arrange the logistics for how to get there.
RT:Who is helping you to collect the information from the crash site?
Wim van der Weegen: The investigation started right after the crash. There was an international team of air crash investigators. This team has collected a lot of information in the past two weeks. For example, data recorders, satellite information, radar information from air traffic controllers. The search at the crash site is just one part of a bigger, complex investigation.
What is unusual for us in this investigation is that we have got abnormal circumstances. If there is an airplane crash, you almost immediately start investigation at the site. Since we did not have an opportunity to start an investigation at the crash site, we more or less worked in a reverse way and started collecting information from data recorders, satellites images, and radar information from air traffic control.
They have collected so much information that broader information at the crash site is not necessary any more.
RT:Who is now working at the crash site and helping you to collect the information? Is that correct that those specialists are not members of your commission?
Wim van der Weegen: There are no air crash investigators at the crash site at the moment.
RT:Just one more question. When approximately do you plan to arrive to the crash site to take over the investigation?
Wim van der Weegen: We hope that we can get there as soon as possible. The first priority of the Dutch government is to collect human remains and personal belongings. We have a team on standby ready to travel to the crash site whenever there is an opportunity for us. When this will be, we are not sure. We would like to visit the crash site for investigation, but we depend on safety and other parties, so I can't tell you when we will be able to travel there.
READ MORE: Dutch, Australian experts reach MH17 crash site for 1st time
Meanwhile, on Thursday, another group of Dutch and Australian forensic teams, which are not members of the Dutch Safety board, managed to reach the Malaysian Airlines crash site in eastern Ukraine for the first time, after almost a week of trying to access the scene. The teams were accompanied by OSCE monitors.
You can share this story on social media: