​Human Rights Watch, London's Foreign Press Association call for Andrey Stenin release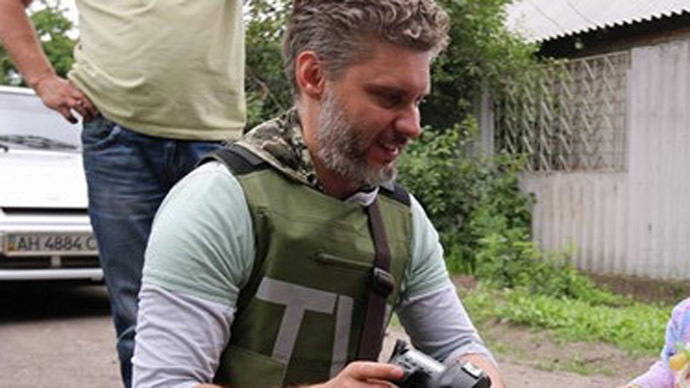 Human Rights Watch and London's Foreign Press Association have called for the release of Russian photo journalist Andrey Stenin, and information on his whereabouts. Stenin has been missing in eastern Ukraine for almost a month.
HRW in particular has urged the Ukrainian authorities to disclose the information on Stenin's current location, Rachel Denber, the organization's Deputy Director of the Europe and Central Asia Division, told Latvian radio Baltkom.
"The journalists' rights in Ukraine are breached both by self-defense forces and by Ukrainian military. Ukrainian authorities detained many Russian journalists. Unfortunately, I don't have any new information regarding Andrey Stenin. We're urging the Ukrainian authorities to disclose the whereabouts of Stenin," Denber said.
Meanwhile, London's Foreign Press Association called on the release of Rossiya Segodnya news agency's photographer.
"The Foreign Press Association in London shares the concerns expressed by international media organizations about the whereabouts and safety of the Russian photographer Andrei Stenin," the organization in charge of the accreditation of foreign journalists in the UK said in a statement.
The Association also noted that all journalists should be able to work safely in Ukraine.
"All journalists and photographers must be free to cover events in eastern Ukraine without harassment or interference. Events there are of huge interest and importance both to the people of the region and the whole international community," the statement quoted President of the FPA Paola Totaro as saying.
Totaro added that it was essential that Stenin "be freed if he was being held against his will by security forces or others."
The statements come as the #freeandrew campaign is sweeping the globe. Only a few days ago, the German newspaper Junge Welt joined, putting Stenin's photo on the front page. Last week, rallies demanding the release of the photo journalist took place in Argentina, Spain, the UK and Serbia.
Andrey Stenin has been missing since August 5, and despite almost a month since his disappearance, the journalist's whereabouts still remain unknown as Kiev keeps silent.
In mid-August, an adviser to the Ukrainian interior minister, Anton Gerashchenko, said that Stenin had been arrested by the Ukrainian Security Service for "aiding and glorifying terrorism," but he then backtracked on the statement.