Iran slams new round of US sanctions as 'invasion', says they violate nuclear deal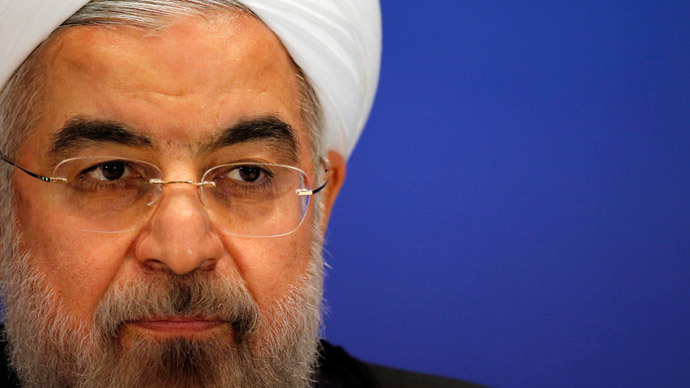 Iran's president has condemned as an "invasion" new sanctions on around 30 firms, banks and individuals, imposed by the US amid stalled talks on Tehran's nuclear program. Iran believes Washington's move contradicts earlier agreements.
"Sanctions are an invasion of the Iranian nation. We should resist the invasion and put the invaders in their place," Iranian president Hassan Rouhani told officials in remarks broadcast by state TV. "We should not allow the continuation and repetition of the invasion."

On Friday, the United States announced it was putting more pressure on Iran by penalizing around 30 businesses, banks and individuals, allegedly helping Iran proceed with working on its nuclear program, supporting terrorism and letting Iran evade prior sanctions.

"Today we took additional steps in our effort to maintain pressure on the government of Iran," said Caitlin Hayden, a spokeswoman for the White House's National Security Council.

Additional sanctions contradict an interim agreement reached by Iran and the P5+1 group of world powers, Iran's state TV said. The deal includes Iran curbing its nuclear activities in exchange for lifting some of its sanctions.
"These actions are inconsistent with the current process of nuclear negotiations," Foreign Ministry spokeswoman Marzieh Afkham said in remarks quoted by the state news agency IRNA and cited by Reuters.

"At a time when the Islamic Republic of Iran has taken confidence building measures based on the agreements, as was reflected by the IAEA reports in Tehran, Iran is expecting the same actions by the U.S. and the rest of the (powers)."
The US insists that the new set of sanctions are consistent with the interim agreement, explaining that they are not an expansion of the sanctions regime, but rather extending the list of persons and entities under types of sanctions that are currently effective.
.@StateDept today imposed sanctions on entities providing support to illicit Iranian nuclear activities. Learn more: http://t.co/VmwmhP00oB

— Department of State (@StateDept) August 29, 2014
"The United States remains committed to working with our P5+1 partners toward a long-term, comprehensive solution that provides confidence that Iran's nuclear program is exclusively peaceful," Hayden said.

US officials, speaking to Reuters on condition of anonymity, said more than 60 people and firms had already been targeted since the parties agreed to hold comprehensive nuclear discussions.

Apart from Iranian firms and individuals, some other foreign ones have been sanctioned by the US, such as UAE-based Goldentex FZE and Italian firm Dettin SpA.

Also on the new sanctions list is Moscow-based Iranian Asia Bank (formerly Chemeximbank), which according to the US Treasury "provided support to the Central Bank of Iran and designated Iranian banks."

"In mid-2014, Iranian Asia Bank converted and facilitated the delivery from Moscow to Tehran of US dollar bank notes valued at over $13 million to representatives of the Iranian government," the US Treasury statement reads.

The sanctions ban transactions with the penalized individuals or companies and freeze their US assets and property.

The talks on Iranian nuclear program between Tehran and the P5+1 powers (Britain, China, France, Germany, Russia and the United States) started in February. The sides failed to strike an interim deal in July as was initially planned. The talks have been extended to November 24.

The US suspects Iran of attempts to develop nuclear arms, while Tehran denies the allegations and says its uranium enrichment program is purely for civilian purposes.
You can share this story on social media: