Japan seeks biggest-ever defense budget amid China tensions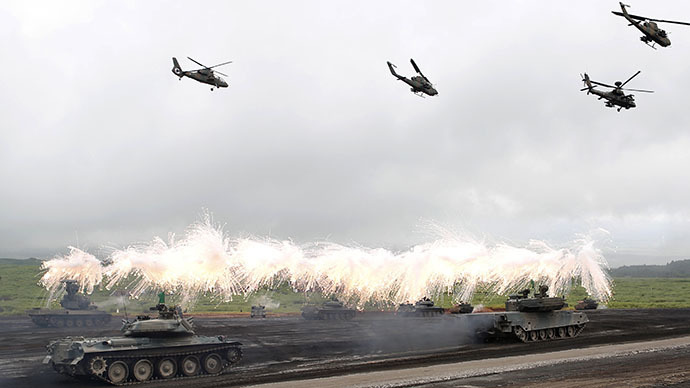 Japan is looking to boost its defense budget to the biggest it's ever been, to pay for drones, stealth fighters and a new high-tech submarine amid intensifying military rivalry with China and concerns over North Korea's missile program.
The Japanese Defense Ministry has asked for a 3.5 percent spending increase to 5.05 trillion yen ($48.7 billion) for the fiscal year beginning next April.The increase includes the realignment of US military forces, which are stationed in Japan.
Prime Minister Shinzo Abe is taking a tougher stance on national security and has also ended a ban on Japanese soldiers fighting abroad, as well as easing curbs on weapons exports.
Japan is worried about China's rapid military build-up. Beijing has overtaken Japan as the world's second largest economy and China's defense spending has increased fourfold over the last decade to 808 billion yuan ($132 billion).
Japan is also wary of North Korea. Most of the Japan's archipelago of islands is within range of North Korea's Rodong missiles. Last year the Japanese Defense Ministry issued a white paper saying that military activity by the secretive regime in Pyongyang was a serious destabilizing factor for Japan and the world.
Japanese Defense Minister Itsunori Onodera said at a budgetary meeting at the ministry that the increased spending would "ensure security of the sea and airspace surrounding Japan, the effective deterrents and response to an attack on remote islands and response to major disasters."
New hardware
Japanese Defense Ministry wants to buy six F35 stealth fighter planes from US firm Lockheed Martin, although the jets have been plagued with problems and cost overruns, as well as 20 P-1 patrol planes from Kawasaki Heavy Industries.
Japan also wants to buy surveillance drones and tilt-rotor aircraft that can take off and land like a chopper but fly like a plane. The V-22 Osprey is the only such aircraft in military use, and is widely used by the US Navy.
The Defense Ministry will also ask for 64.4 billion yen ($619 million) to upgrade the Soryu class submarine. The new submarine will use lithium-ion batteries, replacing a propulsion system that used liquid oxygen to run a diesel engine, which will allow it to stay under water for up to two weeks.
The Japanese navy wants to buy a seventh destroyer equipped with the Aegis ballistic missile system to bolster its defenses against any attack from North Korean missiles.
"We will fortify our system of defending the whole country continuously and in a multi-layered fashion against missile attacks," the Defense Ministry said in a statement.
The ministry is looking for a further 5 million yen ($480,000) to begin designing a new class of amphibious assault ship to retake remote islands and will spend $17 million on building two more ambitious assault ships which can also be used as command and communication centers.
The Japanese coast guard has also asked for its current annual budget of 50.4 billion yen ($485 million) to be doubled so it can buy more patrol boats and increase its number of personnel.
Meanwhile, another 19 billion yen ($182 million) is being requested to buy two Boeing-777-300 ERs to ferry around Prime Minister Shinzo Abe and the imperial family.
The government has sought to justify the massive spending hike, by arguing that procurement reform for large multi-year projects will save 700 billion yen over five years.
The jump in military spending comes amid growing Chinese-Japanese tensions over a group of tiny uninhabited islands in the East China Sea, which both countries say are theirs. Military planes and navy patrol boats now routinely shadow each other round the islands, called Senkaku in Japan and Diaoyu in China, which are little more than outcrops of rock.
You can share this story on social media: