Tag with a price: Adidas RFID tracking could be used to spy on clothes' owners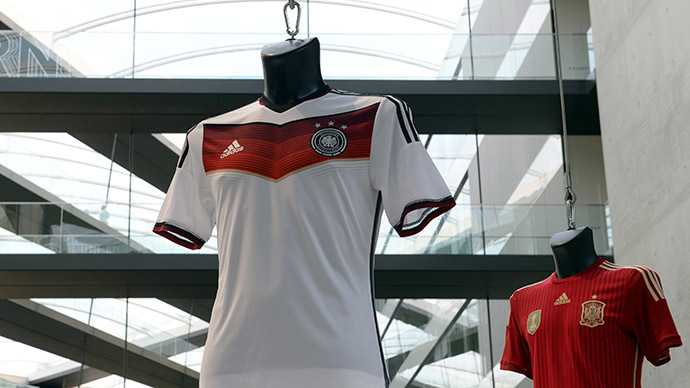 Adidas has sewn RFID tags into national football team's jerseys, raising concerns from human rights organizations, claiming that such clothes could be easily turned into tracking devices revealing a person's location, Deutsche Welle reports.
The sportswear maker insists it is not going to track football fans using RFID tags, and has said customers can dispose of the tag if they don't want to wear it, yet digital privacy experts point out that tags implanted in clothes hold great surveillance potential.
About half a year ago Adidas started an experiment of implanting permanent RFID tags into German national team soccer jerseys, which are being sold like hot potatoes after the German team won the FIFA World Cup.
The questionable practice was reported by Germany's "digitalcourage" Internet freedom group, and was confirmed by Adidas.
"As part of a logistics project we have tested for the first time an RFID label with a virtual number. It is a read-only label without any additional data. The label is not tied to the article number, size or color of the article and we also can't link it with end customer data. It is of course up to customer of this product to cut out the RFID label along the dashed line and throw it in the trash," Adidas said to Deutsche Welle in a statement.
The company nevertheless declined to comment whether the customers should be informed about the RFID marks they wear when they buy an item.
"Consumers do not only have an interest, but a right – not in a legal sense, but in a moral sense and from a consumer protection perspective," Thilo Weichert, data protection commissioner in the German state of Schleswig-Holstein, told DW. "They obviously should be informed when their clothes are being tagged and the problem with these RFID tags is that they are very easy to tag," he said.
Weichert explained that someone could potentially track specific shirts with implanted RFID reader. When a person buys a clothes item using personal credit card, the RFID tag's number could be automatically coupled with information about the owner of the item, which opens way to creating and updating personal profiles.
"I don't want to imply that Adidas or anybody else is doing that, but it is a feature of the shirt that the costumer must be informed about and he must also be informed about how he can dispose of this form of identification," Weichert said.
"In the case of Adidas it seems like the consumer is not getting adequate information about these (RFID) devices," added Raegan MacDonald, European policy manager for digital rights group Access Now, told DW.
Radio-frequency identification (RFID) technology is based on the wireless use of electromagnetic fields to transfer data. This technology is extremely convenient for automatic identification and tracking tags applied to virtually any physical object.
The small, inexpensive and operating without on-board power RFID tags are being widely used in logistics and storage business, as well as retail trade. Producers could give a unique number to anything they make, from firearms to T-shirts, and track the whereabouts of the item later on.
But the RFID technology proved to be so efficient and cost-effective that it expanded like a forest fire in many directions and naturally one day it came to tagging living beings.
It began with tagging pets to be able to find them if they get lost or stolen. Then came the turn of American schoolchildren and students, who opposed an instruction to carry badges with RFID microchips, which enabled teachers to search them on college premises.
Yet as it often happens with good ideas, they get new, sometimes deadly applications when they get into the hands of the military.
Armies of several countries, such as the US, Israel and Sweden, have already tested RFID technology to be used in soldiers' uniforms to ease tracking and rescue operations, with reported plans to implant RFID chips under servicemen's skin.
Israel's IDF and the US Army use RFID tags to mark potential targets, including suspected terrorists, and other perceived enemies.
Yet the military use of RFID tags is being done either voluntarily by servicemen who do not want to be lost or wounded on a battlefield or are implemented against enemies with no holds barred.
Using RFID chips to tracking customers is wholly different issue.
"The consortium of major corporations around the world and even governments are very interested in tracking people, and it's all about profit. They figure if they can know everything about somebody – where they go, their habits, whom they know – then they can make money out of that," told RT consumer privacy expert Liz McIntyre, adding that "it's a very invasive technology, and this is just the beginning."
You can share this story on social media: