Russian fireworks show tops Cannes intl pyrotechnics competition (FULL VIDEO)
Published time: 27 Aug, 2014 03:04
Edited time: 27 Aug, 2014 03:11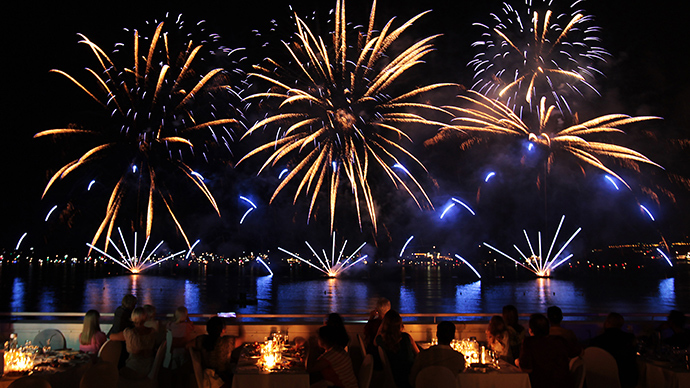 With their unique and breathtaking pyro-music performance a Russian fireworks company from Kaliningrad has won the "Olympic prize in pyrotechnics" at an international fireworks festival in Cannes.
The Russian team's performance watched by over 200,000 spectators won over the jury by combining tradition and innovation. The magic of Khan pyrotechnic company from Kaliningrad bewitched all members of the jury with a sophisticated and unique show full of intensity called Black swan.
In their concept, the Russian designers explained that their performance set out to create "deep emotions aroused both by the legendary music of Tchaikovsky and enchanting fireworks, while revealing the exceptional grace and beauty of the black swan."
"Black swan is far from being a symbol of sorrow. Maybe one of them will grant you good luck!" Khan says.
Recognized as one of the most remarkable competitions of a kind, the Cannes Pyrotechnic Art Festival gathered fireworks gurus from around the world to compete for the Gold Vestale.
Each year, companies compete for the Silver Vestale and once in 6 years the prizewinners gather to fight for the Gold Vestale. The Russian firm won the competition in 2011, with their performance called "Kalinka – the Russian soul."
Cannes' bay in the French Riviera provides a fantastic setting to hold such competitions. Pyro-musical displays are fired over the Mediterranean from three barges located 180 meters from each other. A high quality and high power sound system is crucial to make sure that every spectator enjoys the show.
Italians, French, Chinese, Spanish and Russians all competed in 2014 to win the Gold Vestale in a natural setting 400 meters offshore. The jury evaluated the pyrotechnical shows based on music and firework conception, overall impression, sound tracks chosen, as well as the originality of the performance.