Misplacing history: Berlin loses track of huge 3.5-ton Lenin head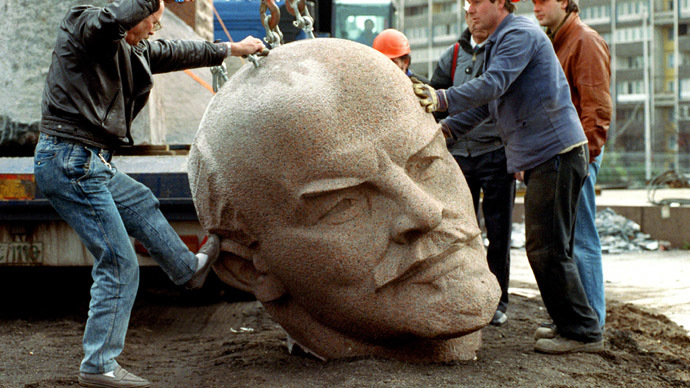 A piece of history lost, buried, or possibly stolen: German officials admitted they cannot locate Berlin's famous statue of Soviet leader Vladimir Lenin. Some claim the inability to find the monument is politicized – others boast having a "treasure map."
News of the missing cultural artifact came to light after the top of the statue – a 3.5-ton granite replica of the Russian revolutionary's head – was requested for an art exhibition, featuring monuments from Germany's Nazi and Communist eras.

How does a country lose a 19-meter high statue that stood in Berlin for just over two decades? In this case, it cut it up into 129 pieces, buried them in Koepenick Forest on the outskirts of the city, and left them there exposed to vandals and thieves.

The head, requested by the art exhibition scheduled for next spring, was over five feet tall and one of the few pieces left intact.

The sculpture became famous through movies like Good Bye, Lenin!, in which the head of the statue was symbolically suspended by helicopter.
Foto: shihlun: The huge granite head of Lenin hangs from a crane as the statue is dismantled in Berlin in... http://t.co/91tNtwMFwk

— Guillermo Zamora (@GuilloTroll) August 23, 2014
The statue stood in East Berlin's Lenin Square (now United Nations Square) from 1970 until 1991, when it was dismantled following the dissolution of the Soviet Union.

When the organizers of the exhibition went to the forest to excavate, they found nothing. No one from the local administrations, meanwhile, seemed to actually know where it was buried.

Berlin's senate declined organizers' proposal to dig up Lenin's head, arguing that the exact location is unknown and excavating the entire site would be too costly for the city.

Many have criticized the senate's move, with the left-wing Die Linke party accusing authorities of being "scared of that stupid old head," Taz newspaper quoted MP Wolfgang Brauer as saying.

Some have questioned the government's lack of records as to where the statue was buried.

"Everything in Germany is documented," US filmmaker Rick Minnich told Berliner Zeitung adding that "there are bound to be documents in this case too."

Minnich was able to locate the head back in 1994 while shooting a documentary, and offered his help this time around.

Meanwhile, exhibition organizer Andrea Theissen claimed that she is in possession of a map that pinpoints the precise location of the piece.

"The department of monument protection thinks it is not possible to find the location of the head," exhibition organizer Andrea Theissen said. "But that's not true, we know where it is."