Ebola crisis: Air France crews call for flight cancellations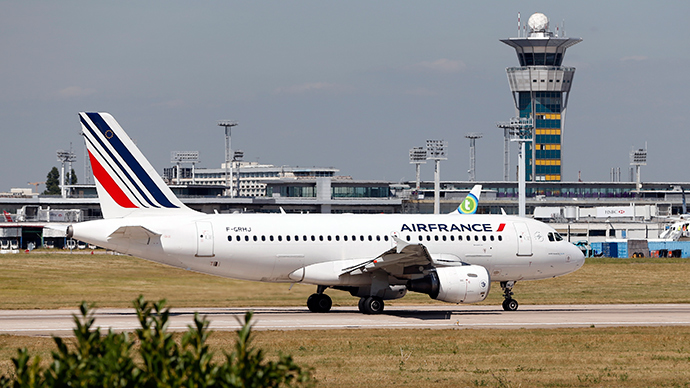 The union behind Air France has launched a petition to immediately stop flights to Ebola-hit countries until the virus is under control, as fears flare up over the largest epidemic the world has ever seen.
Air crews are still made to fly to Conakry in Guinea and Freetown in Sierra Leone, according to Le Parisien. Those are some of the most afflicted by the Ebola virus, having now lost more than 1,200 people.
"We are afraid," one employee told the newspaper. "We know that this is a risky career – countries at war, dictators, OK, but this… it's different."
The employee is one of 700 who signed the petition.
Although Air France staff had already been given the right to refuse to work on flights bound to the two West African countries, they didn't go as far as British Airways and Emirates, who canceled the routes altogether.
And Europe is now no longer immune to the virus. The first European infected by a strain of Ebola, Spanish priest Miguel Pajares, has died in hospital, Reuters reported on August 12, shortly after he'd boarded a plane from Liberia.
The UK has been on high alert since late July.
Spanish priest becomes first man to die of Ebola in Europe
Now, Germany has offered to help, answering the World Health Organization's call to accept patients for treatment.
Meanwhile, the French airline continues to send flights to the affected West African nations four times a week. The WHO classified aviation as a 'low risk' method of transmission, since the virus isn't airborne and requires the exchange of body fluids, saliva, blood or vomit.
Therefore the International Air Transport Association didn't make the recommendation the flight crews would have hoped for. Nonetheless, "we know full well that people with the virus can take up to three weeks to develop the symptoms," the petition's author, Patrick Henry-Haye told Le Figaro.
"Many flights have been cancelled due to a lack of sufficient crew," he told Le Parisien, citing reports by some cabin crew.
In mitigating existing risks, Air France cited its preparedness to handle any unforeseen situations that may occur mid-flight. The airplanes have been outfitted with face masks, alcohol gel and gloves.
Passengers showing signs of the sickness will be isolated in a toilet, as well as undergoing other measures. Everyone's temperature will be taken prior to boarding and a record will be kept of anyone who might have come into contact with an infected person.
Now, as the number of cases of West Africa's Ebola outbreak has climbed to 2,240, including 1,229 deaths, the World Health Organization is urging affected countries to screen all people at international airports.
You can share this story on social media: