Outrage as Saudi Arabia beheads four men in execution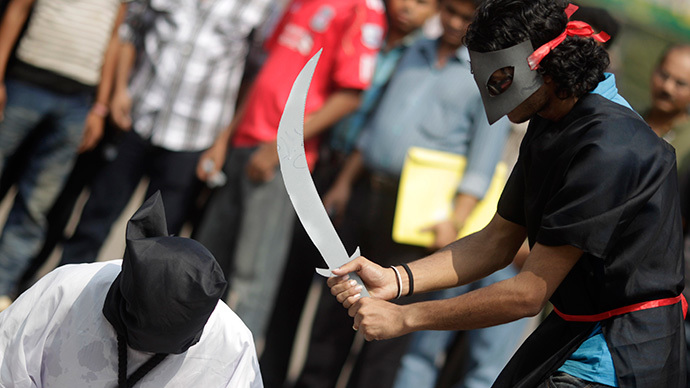 Saudi Arabia has executed two sets of brothers for hashish-smuggling, bringing the number of those suffering capital punishment to 17 in a fortnight. The crackdown has provoked protest from human rights organizations.
"The recent increase in executions in Saudi Arabia is a deeply disturbing deterioration. The authorities must act immediately to halt this cruel practice," said Said Boumedouha, Deputy Director of Amnesty International's Middle East and North Africa Programme.
"The death penalty is always wrong, and it is against international law to use it in cases involving non-lethal crimes and where evidence used to convict the person is based on 'confessions' extracted as a result of torture."
The four men, two sets of brothers - Hadi bin Saleh Abdullah al-Mutlaq and Awad bin Saleh Abdullah al-Mutlaq, and Mufrih bin Jaber Zayd al-Yami and Ali bin Jaber Zayd al-Yami - were first detained back in 2007.
Their relatives contacted human rights groups, claiming that the accused were tortured, deprived of sleep and threatened when police failed to present concrete evidence against them. Within Saudi Arabia's Sharia legal system, which relies on religious texts and has no set code of laws, the confession obtained during incarceration was considered sufficient to sentence them to death.
The brothers' claims of torture – previously voiced by other inmates in Saudi jails – were roundly rejected by the authorities.
Amnesty says that the families of the condemned attempted to get in touch once more in days prior to the execution - carried out in the southwestern city of Najran - only to be warned off by the security forces.
"This apparent intimidation and surveillance of victims of human rights violations and activists adds another sinister layer to Saudi Arabia's use of the death penalty. It is clear evidence that the authorities are willing to go to extreme lengths to prevent reports of gross human rights violations in the country from reaching the outside world," said Boumedouha.
"The family in this case deserves full disclosure as to why their loved ones' allegations of torture were not investigated."
Saudi Arabia executed 79 people last year, more than any other country apart from China, Iran and strife-ravaged Iraq. This year 17 people were executed in the months up to July. But the end of Ramadan – a month-long ritual of strict religious observance – has brought on an unannounced wave of executions.
You can share this story on social media: