Reddit, Imgur and Twitch launch 'DERP' data research study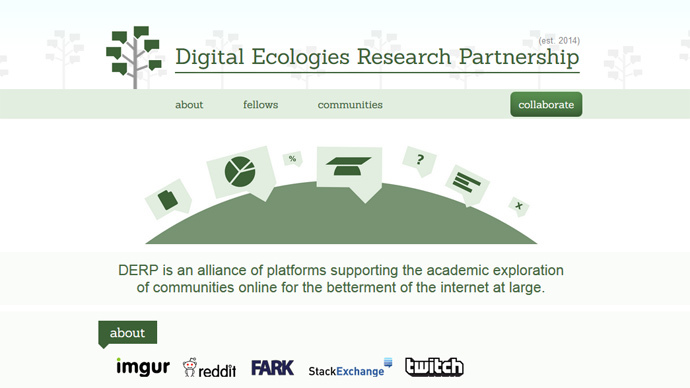 Prominent social networks including Imgur, Reddit, and Twitch are joining forces to create a research partnership that will look into the "social dynamics" of the internet.
The Digital Ecologies Research Partnership, or 'DERP' for short, describes itself as a "joint initiative by an alliance of community websites to promote open, publicly accessible, and ethical academic inquiry into the vibrant social dynamics of the web."
The networks will grant major universities access to their data in the hope of furthering research.
DERP says on its website that it hopes to solve "two problems in the academic research space". One is the creation of a single point of contact for members of the prominent sites and the other is the facilitation and coordination of cross-platform analysis.
"We envision that this will lower the friction to investigating these sites in more depth, and broaden the scope of research happening within the academic community," the site states.
Imgur's head of special initiatives, Tim Hwang, told the Guardian that the project materialized "as a result of Imgur talking with a number of other community platforms online trying to learn about how they work with academic researchers."
He stated that the vast majority of the data was otherwise accessible through public APIs. However, "there are ways of doing research better, and in a way that strongly respects user privacy and responsible use of data," Hwang said.
Research supported by the collective will be released openly and made publicly available, according to Imgur's head.
He used the example of a Stanford paper exploring Reddit's 'Random Acts of Pizza' subforum as a representation of what he hopes DERP could achieve.
'Random Acts of Pizza' is where hopeful redditors request that another user send them a takeout pizza. The Stanford study analyzed factors such as how the request had to be worded in order to increase the likelihood of receiving a free pizza.
The researchers were eventually able to deduce in 67 percent of cases whether or not a standing request for pizza was likely to be granted. Those which provided higher levels of information and context in addition to a captivating personal story were more likely to be granted.
Molly Sauter, a student at Montreal's McGill University and a DERP researcher said she was satisfied that its establishment would "help diversify the online populations and communities being studied".
You can share this story on social media: