'Some progress reached': Berlin talks yield no quick fix for Ukraine crisis
The second round of talks in Berlin over the Ukrainian crisis has brought no immediate results. However, the foreign ministers of Russia, Ukraine, Germany and France said "some progress" had been made on important issues.
The high-level meeting lasted over five hours with the ministers leaving the building late in the evening. The meeting of foreign ministers included Pavlo Klimkin of Ukraine, Russia's Sergey Lavrov, Germany's Frank-Walter Steinmeier and Laurent Fabius from France.
The German FM made an immediate statement to the press following the talks, saying that the negotiations will continue next week, emphasizing that the ministers will use any possibility to ease the humanitarian situation in Ukraine and avoid further victims.
The Russian Foreign Ministry reported that "a certain progress was reached" in the negotiations and that the parties would "continue dialogue in the same format with the goal to reach concrete suggestions for consideration by the leaders of Russia, Germany, France and Ukraine."
Ahead of the meeting, the German FM said that a "road map" is needed "to achieve a long-term cease-fire, as well as the development of the basic principles of effective border control."
"There are no guarantees that today's meeting will have the desired success, but I also say with regard to the situation today and in the past few days it would be irresponsible not to use the willingness to talk signaled by all sides," Steinmeier said, warning that otherwise "we risk the danger of setbacks and renewed escalation."
He added that all parties to the conflict must be "very careful about sliding ever deeper into a direct confrontation between Ukrainian and Russian armed forces." This must be avoided "at all cost," said Steinmeier.
The German foreign minister also stated that he supports the sending of Russian humanitarian aid to the region and hoped that during the talks "the final difficulties could be cleared."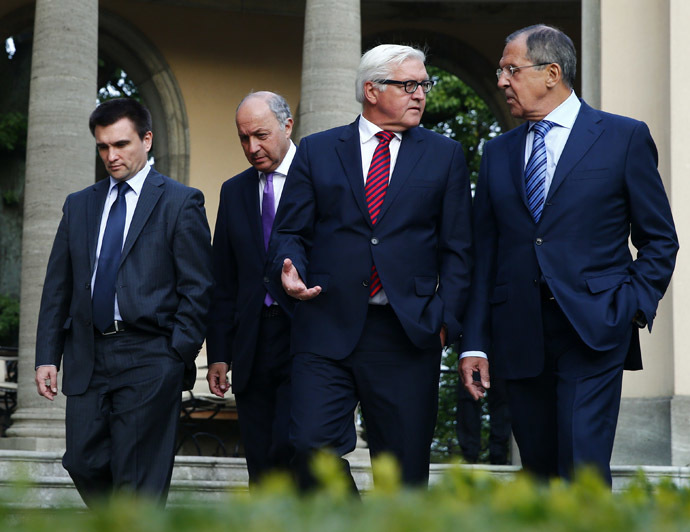 French Foreign Minister Laurent Fabius also made a public comment, via Twitter, ahead of the meeting, saying: "Priority must be respecting Ukraine's territorial integrity, the end to violence and the relaunching of the political process."
Lavrov also gave a reminder that Ukraine has violated all points of the Joint Geneva Statement on Ukraine signed on April 17.
"The statement is aimed at three objectives, with all three tasks sufficiently urgent," Lavrov said. "The first – an immediate cessation of the use of force. Second – an immediate solution of humanitarian problems. And the third – the immediate commencement of constitutional reform in a format that involves all regions of Ukraine which is open and accountable to public opinion."
"None of these three requirements, which were signed by the Ukrainian side, have been fulfilled," the minister said.
You can share this story on social media: