Most jaw-dropping locations and events on Earth photographed from ISS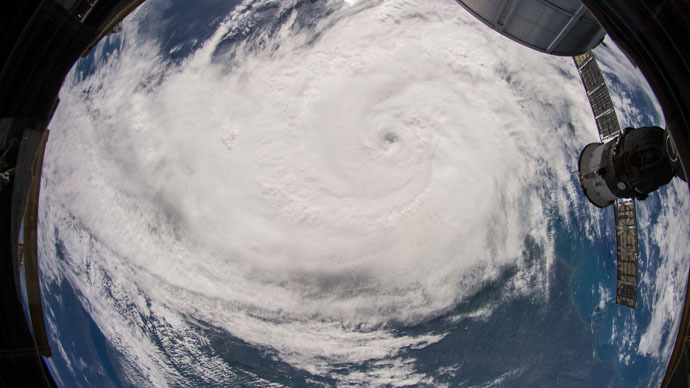 The crew of the International Space Station Expedition 40 are locked in an unofficial competition to produce the most stunning pictures of Earth from orbit.
More than 1.3 million photos have been taken from the ISS since the first module reached the low orbit - about 400 km from the Earth's surface – in 2000, but the current crop of astronauts, who include three first-timers out of the six-strong team, are particularly prolific and talented photographers.
Baltimore native Reid Wiseman has been obsessively documenting every day of the mission. flooding the social media with dozens of pictures every week since his arrival at the ISS in late May.
Rather than just posting pretty pictures, the US astronaut has used them to give a different perspective on important events down below, often commenting on deadly natural phenomena from the distance of his space capsule.
#Etna and #Stromboli erupting by day. @astro_alex took the exact same shot at night, with lava. #teamworkpic.twitter.com/pPA2YFwPIo

— Reid Wiseman (@astro_reid) August 14, 2014
Hurricane #Arthur has grown an eye since we last met. pic.twitter.com/HBJoDrcNxQ

— Reid Wiseman (@astro_reid) July 3, 2014
#Wildfires along the spectacular western #Australia coastline. pic.twitter.com/FkHdd1aYqa

— Reid Wiseman (@astro_reid) August 8, 2014
He has also occasionally longed for his homeland, as seen from a tantalizing height.
I need to go hiking in the #Canyonlands of #Utah again. Wow. pic.twitter.com/MufJN7ZPvW

— Reid Wiseman (@astro_reid) July 9, 2014
Western USA is beautiful at night: LA/San Diego in the lower right, Vegas center, Phoenix top right. pic.twitter.com/BPgJpxZqDH

— Reid Wiseman (@astro_reid) June 11, 2014
Though not the Hoover Dam, which doesn't look nearly so good laid out flat.
The Hoover dam and Vegas are far more spectacular when viewed from 5'10'' high. pic.twitter.com/UWa26gOiFv

— Reid Wiseman (@astro_reid) July 23, 2014
The German Alexander Gerst, also making his maiden journey into the orbit, is more inclined towards spectacular visual effects.
Brain cloud #BlueDotpic.twitter.com/rNQbyPZVUc

— Alexander Gerst (@Astro_Alex) August 16, 2014
To me, oceans used to be just water. I will never look at them that way again. #BlueDot (Hawke Bay, #NZ) pic.twitter.com/982FcyzYvG

— Alexander Gerst (@Astro_Alex) August 12, 2014
Never have thought I would fly right through an #aurora. I made a wish, just in case it's an undiscovered rule pic.twitter.com/nbgTv3T5MG

— Alexander Gerst (@Astro_Alex) August 9, 2014
Not all of them natural.
Gas field in Kazakhstan. I could see the flames from orbit even in daylight. #BlueDotpic.twitter.com/KhNoekWs9r

— Alexander Gerst (@Astro_Alex) August 1, 2014
Irrigation in the #Sahara#Desert looks like a challenging task from up here... #BlueDotpic.twitter.com/ib5ZO2At3K

— Alexander Gerst (@Astro_Alex) July 28, 2014
The geophysicist also took the most iconic photo of the mission so far.
My saddest photo yet. From #ISS we can actually see explosions and rockets flying over #Gaza & #Israelpic.twitter.com/jNGWxHilSy

— Alexander Gerst (@Astro_Alex) July 23, 2014
In contrast to his colleagues, the Russian first-timer, flight engineer Oleg Artemyev, has focused on snaps that make the Earth look like a surreal artistic pattern.
This was his snap of the coast of South America, near Lake Titicaca in the Andes.
Another long-lens photo showed what look like crop circles, but are actually huge farms near Brazil's capital Brasilia.
Meanwhile, the Russian cosmonaut's cities look like an architect's dream of perfectly organized traffic lanes, and monumental housing developments, as seen in this pic of Dubai's artificial Palm Islands.
Though for Artemyev, space wasn't all about looking down - as these two superb shots of a super moon and the sunset show.
While Artemyev's chance to vie for the title of the best photographer in space will run out next month, when Expedition 40 comes to an end in September, Gerst and Wiseman will be up against a new bunch of keen recruits for three months following the crew changeover.
You can share this story on social media: