Russian Defense Ministry denies reports military column crossed into Ukraine
Russia's Defense Ministry has denied Kiev's report that it "destroyed the Russian military column" which allegedly crossed into Ukraine, saying that no such column ever existed.
"No Russian military column that allegedly crossed the Russian-Ukrainian border at night or during the day ever existed," said Major General Igor Konashenkov, a spokesman for the Russian Defense Ministry.
The best scenario would be, the official said, if it was a "phantom" that the Ukrainian military destroyed "rather than refugees or their own servicemen."
"Such statements – based on fantasies, or journalists' assumptions, to be precise – should not be subject for a serious discussion by top officials of any country," Konashenkov said.
The Defense Ministry's comment comes shortly after Ukrainian President Petro Poroshenko announced that his country's artillery had destroyed a "significant" number of Russian military vehicles that allegedly crossed into Ukraine on Thursday night. Reports of the alleged incident had appeared in several Ukrainian and Western media outlets.
Earlier on Friday Russia's Security Service (FSB) also denied the reports. Border guards have been deployed to provide security near the frontier, but they operate only on the Russian side, the FSB said.
The mobile military teams "operate strictly within the territory of the Russian Federation," a spokesperson for the FSB Border Guard Service in Rostov region told RT on Friday.
Russia has stepped up security measures on its border with Ukraine as local residents are under constant threat because of "regular cross-border shelling" and an increased number of "mass border crossings" by the Ukrainian military, he explained. For that reason, FSB mobile border guards' teams have been created.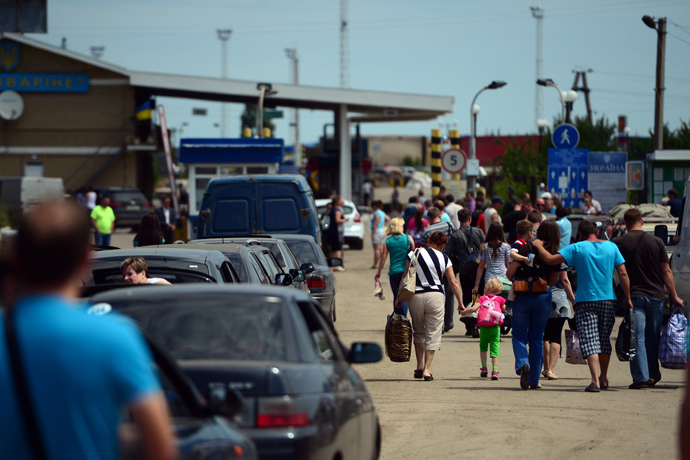 Follow RT's LIVE UPDATES on Kiev's bloody eastern Ukraine campaign
"When residents report about cross-border shooting and fighting in the frontier zone, these teams are immediately deployed to such areas to provide the safety of the Russian state border and Russian citizens, and also to prevent armed people from crossing into the territory of the Russian Federation," Sinitsyn said.
Earlier, several foreign news agencies caused quite a stir, reporting that a convoy of Russian military vehicles had crossed into Ukraine overnight.
The reports triggered criticism from NATO and some European states.
NATO chief Anders Fogh Rasmussen referred to the alleged incident as to "a Russian incursion" that they "saw."
"Last night we saw a Russian incursion, a crossing of the Ukrainian border," he said Friday, adding that "it is a clear demonstration of continued Russian involvement in the destabilization of eastern Ukraine."
British Foreign Secretary Philip Hammond said he was "very alarmed by the reports."
"Of course the humanitarian convoy itself is a separate issue, but if there any Russian military personnel or vehicles in eastern Ukraine they need to be withdrawn immediately or the consequences could be very serious," he told reporters in Brussels, where European Union foreign ministers had gathered for an emergency meeting to discuss crises in Ukraine and Iraq.
While the White House could not confirm or deny the reports and is still trying to get more information, spokeswoman Caitlin Hayden warned that Russia "has no right to do it."
In an article published by The Guardian, reporter Shaun Walker said he "saw a column of 23 armored personnel carriers, supported by fuel trucks and other logistics vehicles with official Russian military plates, traveling [toward] the border near the Russian town of Donetsk." Late on Thursday the convoy "crossed into Ukrainian territory," he said. However, no photographic or video evidence of the incident was presented either in his article or in his Twitter feed. The photograph published with the text was taken on Russian territory.
The Telegraph also reported that "at least 23" Russian vehicles had crossed into Ukraine. The report is accompanied by a video also filmed on Russian territory.
It's a "big question" why two foreign journalists in a war zone "seeing something that should be a very dramatic story haven't got a mobile phone to take pictures of this," Neil Clark, journalist and broadcaster, noted to RT.
You can share this story on social media: