Emmys 2014: RT nominated for Guantanamo hunger strike coverage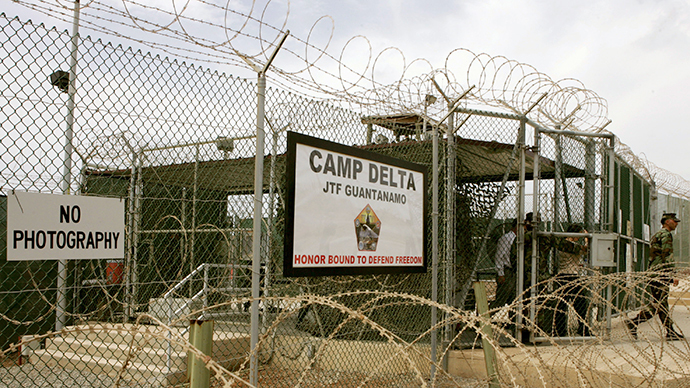 RT has been nominated for a prestigious International Emmy award for its groundbreaking coverage of the six-month-long mass hunger strike by inmates at Guantanamo Bay.
In its investigation, the channel helped to bring the daily brutality suffered by inmates to millions of viewers across the globe, keeping the scandal in the headlines when many in the mainstream media ignored or downplayed the story. In May 2013, President Barack Obama promised to begin letting go prisoners who were cleared for release in January 2010. However, since that promise made over 440 days ago, only 17 of the 86 have been allowed to leave.
RT's #Gitmo coverage earns network its THIRD Emmy nomination [VIDEO] http://t.co/PfYNPOclUL@ManilaChan

— RT America (@RT_America) August 13, 2014
.@RT_com received #iEmmy nod in 2012 for reporting on #OWS & in 2010 for coverage of Pres. Obama's visit to Russia. http://t.co/2Aq6pFZMnw

— RT Press Office (@RT_PressOffice_) August 13, 2014
"We are really happy and proud that we have managed to be nominated for such a prestigious award for a third time," said RT's editor-in-chief, Margarita Simonyan. "The project about Guantanamo became one of the most important investigations last year in television because the mainstream mass media did not cover this topic very much. We believe we will win."
American broadcasters see RT as major challenge, want to try to compete
After months of negotiations, RT's Anastasia Churkina was allowed to visit the Guantanamo prison. She managed to speak to a prison employee in August 2013 who was in charge of force-feeding at the facility. The official told her how exactly the inmates "like" the procedure to be performed.
"Before it [the force feeding tube] is passed down the nose, we lubricate it, and we give the patient a choice: do they want lidocane, which is an agent that will numb the area - or if they want olive oil to lubricate the tube. Most of our patients have been using olive oil. They seem to like it. Some of our patients are so used to it, they will describe which nostrils they want," said the staffer, who could not have his identity disclosed.
Behind the wire: RT goes inside Gitmo (VIDEO)
The hunger strike lasted for over 200 days and at its peak in July 2013, more than two-thirds of Guantanamo's 166 prisoners refused food. It began in February 2013 when several prisoners accused guards at Camp Delta of confiscating their books, letters and other personal possessions, as well as restricting their activities, for no obvious reasons. Several inmates also said that US officers mishandled their copies of the Koran.
Human rights groups had chastised the US for force-feeding inmates, while Ramzi Kassem, a Gitmo detainee lawyer based in New York is questioning this optimistic outlook on force-feeding.
"The force feeding that my clients have experienced at Guantanamo, they've certainly described it as torture. The restraint chair that they're strapped to, they've actually called 'a torture chair,'" Kassem told RT.
Officials at Guantanamo repeatedly tried to cover up or downplay the fact that a hunger strike was taking place, while also undermining numerous requests from those incarcerated not to be force-fed.
RT also reported on the fate of Shaker Aamer, the last British resident imprisoned in Guantanamo Bay, who said he suffered from regular assaults, including those of a sexual nature, from the guards. He has spent more than 12 years at the US detention facility without charge.
"Ultimately, it's all about control, and if they feel they are not always in control, then that's a threat to national security, a threat to the thousands of soldiers with their M16s at Guantánamo," he said.
The situation facing detainees at Guantanamo remains a hot topic for RT, with regular updates on efforts to free them being aired on Abby Martin's "Breaking the Set" and Thom Hartmann's "The Big Picture" shows, among others.
RT has been nominated for Emmys, TV's answer to the Oscars, in the news section, where they will come up against TV Globo from Brazil, for their coverage of a deadly nightclub fire, ITN for Channel 4 News in the UK for their account of the Syrian civil war and ABS-CBN in the Philippines, who looked at the devastating effects and damage caused by Typhoon Haiyan.
The Emmy awards ceremony will take place in New York on September 30.