'Ashamed for the govt, I resign': Russian PM's Twitter account hacked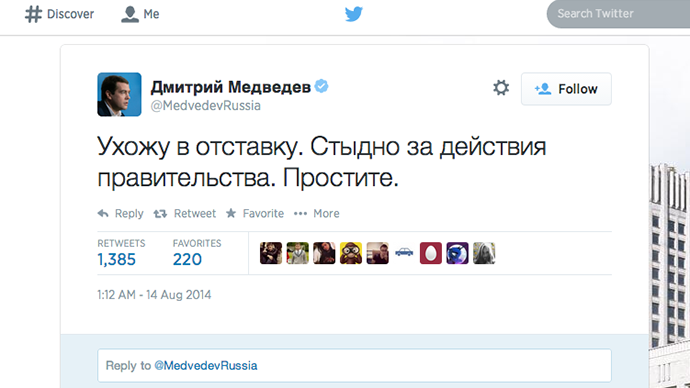 The Twitter account of the Russian Prime Minister Dmitry Medvedev has been hacked. The hacker used the access to declare PM's intention to resign and pursue a career as a freelance photographer.
Medvedev's Russian-language account was hacked at approximately 10:20am Moscow time (06:20 GMT). It took PM's office several minutes to report the breach to the media.
The hacker produced a flurry of tweets over the 40 minutes he or she was in control.
"I resign. I am ashamed for the actions of the government. I'm sorry," the first tweet said.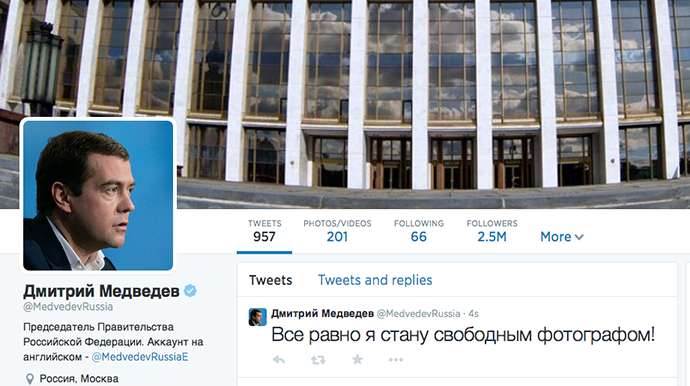 "I'll still be a freelance photographer," another one said.
"I've been longing to say this. Vova [Putin]! you are wrong!" another said.
Apparently the hacker is Russian, since the messages show good knowledge of Russian political memes. For instance, his/her latest tweet addressed to President Vladimir Putin is a reference to the famous words of Mikhail Gorbachev, who said "Boris, you are wrong!" to Boris Yeltsin in response to his criticism of the Communist Party in 1988.
Medvedev's English-language account on Twitter apparently was not compromised.
The news of the hack topped the Russian Twitter trends.