Israel strikes targets in Gaza despite prolonged truce
Several rockets hit Israeli territory just before Hamas announced it was accepting Egypt's offer to extend a ceasefire with Israel for another five days. Israeli PM has ordered the IDF to respond to the attack with reports of renewed bombing of Gaza.
"With the breach of the ceasefire by Hamas, the Prime Minister and defense minister ordered the Israeli military to act in response. The order was issued before midnight," an Israeli official told Reuters on condition of anonymity.
Hamas, in its turn, accused Israel of violating the truce, with Hamas official Izzat Reshiq who is in Cairo saying that there was "no violation of the calm from any Palestinian side and nobody in Gaza has heard rocket fire."
"We denounce the Israeli shelling of Gaza which is continuing," he said cited by Reuters. "This is a violation of the calm."
For those asking who broke ceasefire, remember that the siege, to Palestinians, is itself an act of war. It never ended. #GazaUnderAttack

— Samer Badawi (@samwithaner) August 13, 2014
The Israeli army has already struck several targets in Gaza, the IDF says. "The IDF has been prepared for this possibility, and is determined to continue to maintain the security of the citizens of the State of Israel," the military said in a statement as cited by Haaretz.
12:31 am airstrike again has markings of "concrete bomb," almost complete silent but leaving large plume of black smoke. #GazaUnderAttack

— Samer Badawi (@samwithaner) August 13, 2014
Israeli aircraft carried out a number of air strikes after midnight, targeting "terror sites across the Gaza Strip," according to the IDF. The military "remains alert and maintains a high level of preparedness with both defensive capabilities, and striking capabilities in order to address a renewed aggression and will immediately respond to any threat to Israel," AFP reports.
Several rockets landed in southern Israel before midnight on Wednesday as the sides were negotiating a deal to prolong a temporary cease-fire agreed between Hamas and Israeli authorities in order to try and reach a long-term agreement.
Gaza terrorists have breached the ceasefire & launched a rocket at Israel, hitting the Hof Ashkelon regional council. pic.twitter.com/YKyMv1Ncrg

— IDF (@IDFSpokesperson) August 13, 2014
"Gaza terrorists have breached the ceasefire and launched a rocket at Israel, hitting the Hof Ashkelon regional council," the IDF said in a statement, adding that at least three rockets were fired at Israel on Wednesday night, one of which has been intercepted.
Hamas however denied its involvement in the attack and breach of truce, saying that "there wasn't any rocket fire at the occupation this evening," referring to Israel.
Despite the incident Hamas later announced it had agreed to extend the ceasefire for another 5 days to continue negotiations. Israeli officials however did not immediately comment on the reported extension, apparently waiting for the initial 72-hour ceasefire to end.
Egypt has been a mediator in the talks between the two sides, meeting separately with each party, as Hamas rejects Israel's right to exist and Israel regards the group as a terrorist organization.Cairo has offered the two sides to prolong the truce for another three days and to put off the discussion of the most disputed issues for later, according to Egyptian media.
"We have finished talks today without agreement. More work needs to be done to have a better deal," a Hamas official told AFP on Wednesday night, confirming the group has agreed to extend the truce until Monday.
On Sunday, the two sides agreed to a 72-hour temporary ceasefire to make time to reach an agreement on a permanent truce. This ceasefire was just expiring when the IDF reported firing from the Gaza Strip on Wednesday.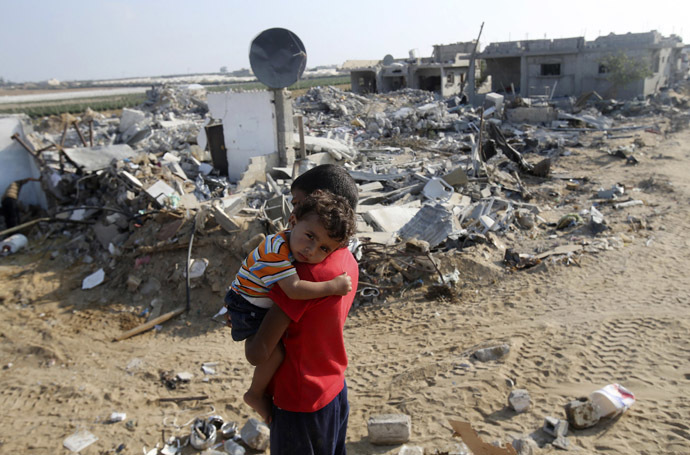 Hamas is seeking an end to territorial and coastal blockade imposed by Israel and Egypt in 2007, which Israel opposes. The blockade has greatly limited the movement of Palestinians and restricted the flow of goods into Gaza, blocking all exports.
Israel's Operation Protective Edge started in retaliation to Hamas rocket fire from Gaza strip on July 8. Nearly 2,000 Palestinians were killed in the month-long fighting, almost 75 per cent of them civilians, according to UN preliminary information. On the Israeli side, at least 67 people were killed, mostly soldiers. The number of Palestinian deaths includes 459 children – that figure is higher than the number of children killed in Gaza in the previous two conflicts combined, said the UN Secretary General Ban Ki-Moon on Tuesday.
You can share this story on social media: