Syria's sarin gas stockpile destroyed, Pentagon confirms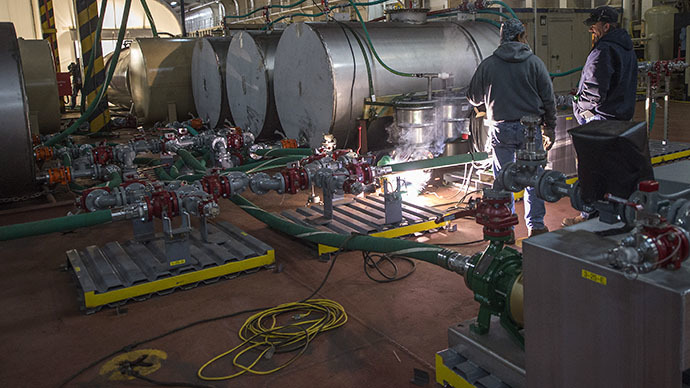 ​The entire Syrian stockpile of precursors required to make sarin gas has been destroyed by US experts on board a US neutralizer ship, Pentagon officials have confirmed.
"I am pleased to announce that the crew aboard Cape Ray has completed neutralization of 100 percent of the sarin precursor aboard the ship, which amounts to about 581 metric tons neutralized," Pentagon spokesman Colonel Steve Warren said.
Warren added the Cape Ray crew are now in the process of neutralizing 19.8 tons of sulfur mustard and should be completed by the end of August.
Syria agreed to the destruction of its chemical weapons through a US-Russia brokered deal last September. The decision was sparked by a deadly sarin gas attack in August 21 near Damascus that killed hundreds of people. The West blamed President Bashar Assad forces for it, while Damascus accused the rebels of committing that terror act as a provocation.
Following the agreement, the removal of chemical agents from Syria began in early January and in June the OPCW confirmed that 100% of the declared Syrian chemical arsenal was removed from the country.
Hundreds of tons of the most hazardous Syrian chemical arsenal have been handed over to the US vessel which has special equipment to neutralize a dangerous stockpile in July.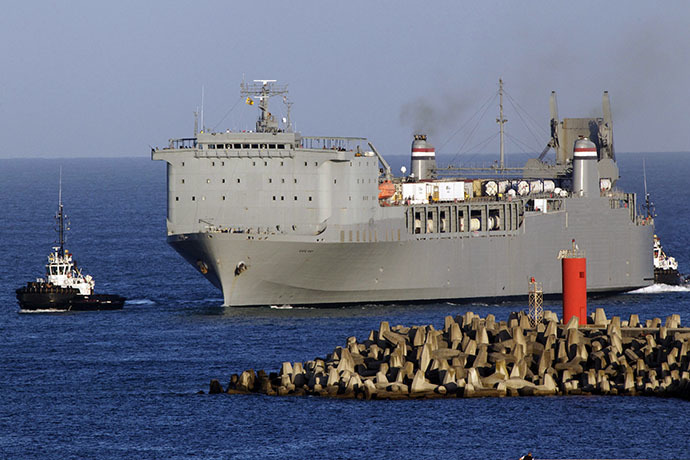 Two shipboard field deployable hydrolysis systems on the American ship designed specifically for the mission will transform the material into low-level hazardous industrial waste.
Once neutralized, the remaining material will still be considered dangerous. However, the substance can't be further used to create chemical weapons. These materials will be processed by facilities in Germany, Britain, the United States and Finland.
The process calls for mixing the chemicals in sealed containers with thousands of gallons of hot water along with sodium hydroxide or other "reagents" that help break down the toxicity of the chemical.
The resulting effluent, which is the equivalent to industrial waste, will be transported to plants on land for disposal. Officials say none of the chemicals or waste will be dumped at sea.
Other chemical agents from Syria are being destroyed on land at special facilities in Britain, Finland and the United States.
You can share this story on social media: