Hundreds of Israelis defy police ban to protest Gaza war (PHOTOS, VIDEO)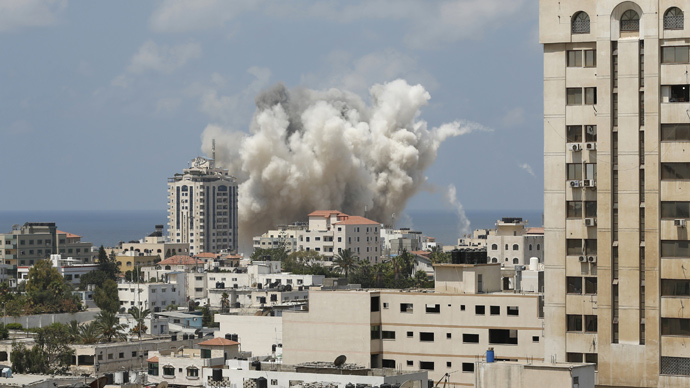 Despite the police ban on public gatherings, several hundred anti-war activists took to the streets in Tel-Aviv on Saturday to say 'no' to the continuation of Israel's bloody military operation in Gaza.
There are conflicting reports on the demonstration's turnout, with Reuters reporting 150 people attending.

However, Israeli +972 web magazine said that "roughly 500 non-aligned activists flooded Tel Aviv's Rabin Square."

Protesters chanted slogans such as "Stop the massacre," "Free Gaza," "Funds to welfare not to war," "Build more classrooms not more bombs" as well as "Gaza children want to live."
"The occupation is a crime that harms us all" Sign at the anti-war protest in Tel Aviv tonight pic.twitter.com/jVq1hnpjHl

— Elizabeth Tsurkov (@Elizrael) August 9, 2014
Two dozen right-wing demonstrators staged a counter-protest nearby, but there were no reports of any clashes between the two groups.
Police spokesman, Micky Rosenfeld, said that none of those, who participated in the illegal demonstration, were arrested.

Earlier, the Israeli police banned public gatherings in cities targeted by rockets fired from Gaza, citing military restrictions.
Anti-war rallies have been held in Israel every week since the beginning of the military operation in Gaza on July 8.

They see a rather small turnout, with the vast majority of the country's population supporting the war.

A recent survey by the private Israel Democracy Institute think-tank revealed that as many as 95 per cent of Israelis supported the IDF's actions and only 7 percent were opposed.
Tel Aviv anti-war protests tonight Photo: Ronny Edry pic.twitter.com/R6wCqO7tic

— Negar Mortazavi نگار (@NegarMortazavi) August 9, 2014
Israeli says the military operation is aimed at halting rocket fired by Hamas.
Heavy shelling of packed residential areas in the Gaza Strip have resulted in a large amount of human casualties and massive destruction.

According to Gaza officials, around 1,900 Palestinians, mostly civilians, have been killed during the two-month conflict.

Israel said that 64 of its soldiers and three civilians have died since the beginning of the fighting.
You can share this story on social media: