Sochi may host Nagorno-Karabakh peace talks – Kremlin
Published time: 9 Aug, 2014 23:11
Edited time: 9 Aug, 2014 23:52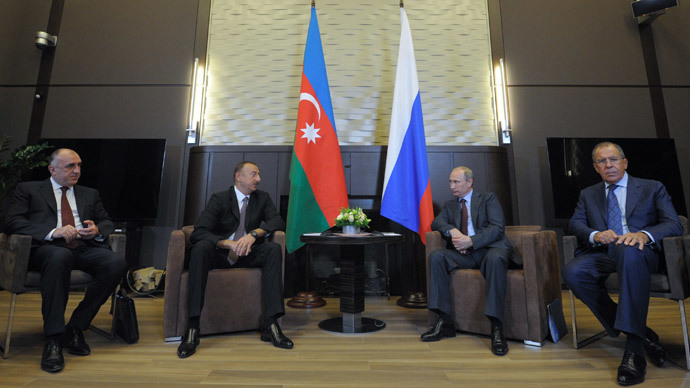 The presidents of Russia, Azerbaijan, and Armenia may hold three-party talks in Sochi on Sunday to curb the recent outbreak of violence in the disputed Nagorno-Karabakh enclave in the South Caucasus, Moscow said.
Azerbaijani President Ilham Aliyev and his Armenian counterpart, Serzh Sargsyan, arrived to the Black Sea resort of Sochi on Saturday for separate talks with Russian President Vladimir Putin.

"We do not rule out such a meeting," Kremlin spokesman Dmitry Peskov said when asked about three-party negotiations.

The leaders of the three states could also attend a combat SAMBO competition together in the evening on Sunday, he added.
Aliyev, who was the first to talk to the Russian president, stressed that the Nagorno-Karabakh conflict between Azerbaijan and Armenia "has lasted far too long and needs to be addressed."

Sargsyan promised to explain to Putin "the reasons behind Azerbaijan's deliberate escalation of the crisis on the Armenian-Azerbaijani border and the contact line."

According to Peskov, all three presidents "expressed concern about the growing tension and recent incidents that resulted in numerous casualties."

"The situation is in fact volatile and unstable and efforts are being taken now to bring it under control," he said.

The Armenian president's press service announced on Thursday that Sargsyan is eager to take part in a three-sided meeting in Sochi. The Azerbaijani side has made no official comments on the issue.

In early August, relations between Azerbaijan and Armenia deteriorated into the worst crisis since the beginning of the century.

The recent violence in the Nagorno-Karabakh Republic – an unrecognized state populated by ethnical Armenians and completely surrounded by Azeri territories – led to the deaths of 13 Azerbaijani soldiers and five Nagorno-Karabakh troops.

The confrontation over Nagorno-Karabakh broke out in 1988 when the region announced its plans to seek independence from Azerbaijan and become part of Armenia.

After Armenia and Azerbaijan obtained independence from the Soviet Union in 1991, Nagorno-Karabakh held a referendum, which approved the creation of an independent state. Azerbaijan made an attempt to regain control over the territory and the conflict quickly escalated into a full-scale war, in which around 30,000 people were killed.

The sides announced a ceasefire back in 1994, but were never able to agree a peace treaty, with the Nagorno-Karabakh Republic remaining an unrecognized state.

Russia has since played the role of key mediator in the process of finding a solution to the dispute between Azerbaijan and Armenia. In 2008, Aliyev and Sargsyan held talks with then-Russian President Dmitry Medvedev, signing an agreement which called for a political settlement of the Nagorno-Karabakh conflict.