Armenia breaks ties with Hungary over clemency for murderer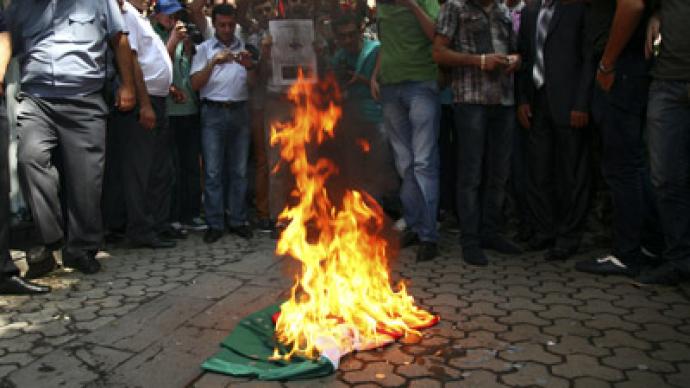 Armenia has cut diplomatic ties with Hungary after Budapest allowed an Azerbaijani who was convicted of killing an Armenian tourist to return to his home country. The man was pardoned after returning from Hungary.
"I officially declare that starting today, we cease diplomatic relations and all official ties with Hungary," Armenian President Serzh Sargsyan said during a meeting with UN ambassadors.The announcement came as Budapest permitted Azerbaijani national Ramil Safarov return to his home country after he had been convicted of murdering an Armenian tourist in Budapest.In 2004, Safarov traveled to Budapest to study English in NATO's "Partnership for Peace program." While there, he murdered Armenian national Gurgen Margaryan, who was attending the same course. Safarov killed Margaryan with an ax while he slept. In his initial testimony, Safarov explained that during the 1993 Armenian occupation of Nagorno-Karabakh, the majority ethnic Armenian region of Azerbaijan where he was born, members of his family were killed in the resulting military conflict. Safarov implied that he killed Margaryan to avenge his relatives. He later changed his testimony, claiming his initial statement was the result of a miscommunication between him and his interpreters. In a revised version of his testimony, Safarov claimed that Margaryan had insulted Azerbaijan's national flag.The trial was held in Budapest in 2006; a Hungarian court sentenced Safarov to life in prison, and he could not appeal for pardon for 30 years.
But on Friday, in accordance with the Strasbourg Convention on the Transfer of Sentenced Persons, Safarov was extradited to his home country.Safarov was pardoned by Azerbaijani President Ilham Aliyev that same day, despite previous assurances by Baku that the convict would not be released before 2037."The Amnesty Act should be regarded as changing the life imprisonment term to the term which the convict has already done," a presidential spokesperson said, citing local laws. Safarov had been imprisoned for more than eight years.While Hungary put forward the 30 year appeal ban, nothing was said about amnesty, added the office.Azerbaijani television showed a smiling Safarov walking through a crowd of supporters, draped in the Azerbaijani flag and carrying a bouquet of roses.
Public outrage engulfs Armenia's capitalA demonstration took place in front of the Hungarian Consulate in Yerevan, Armenia, following the news of Safarov's pardon. Demonstrators held banners reading "Shame on Hungary" and "We demand justice." Protesters threw tomatoes at the building.On Saturday, dozens returned, saying the protest will continue until the Safrov has been brought to justice. Demonstrators burned a Hungarian flag in protest.A demonstration in front of the Hungarian Consulate in Yerevan (video courtesy YouTube user newsamchannel)
A similar protest took place in front of the Armenian Foreign Ministry in the country's capital, the Aysor news website reported. The demonstrators demanded the resignation of the head of the Ministry, Edward Nalbandyan, as well as the other officials responsible for releasing Safarov. They also called on authorities to pressure Budapest to make an official apology.Meanwhile, the official website of Azerbaijani President Ilham Aliyev has been put out of order. Armenian media say the Armenian Cyber Army hacker group is behind the attack.The Armenian Foreign Ministry said that Budapest should have foreseen Safarov being granted amnesty."Armenia has repeatedly informed Hungary that Azerbaijan praises Safarov's crime at all levels, including the presidential one," the ministry said in a statement. "Hungary's government should have realized the consequences of Safarov's extradition, since this action abolished prosecution of the offense. Thus, Hungary's government shares the moral responsibility for assisting Safarov in his grievous crime."The country's President Sargsyan accused Hungarian authorities of colluding with Azerbaijani authorities to have Safarov released."The Hungarian authorities have to understand that they made a big mistake. They actually made a deal with Azerbaijani authorities," he said.The incident sparked concerns in countries as far away as the US. The White House voiced clear disappointment over Safarov's release, and demanded an explanation from Budapest."We are communicating to Azerbaijani authorities our disappointment about the decision to pardon Safarov. This action is contrary to ongoing efforts to reduce regional tensions and promote reconciliation. The United States is also requesting an explanation from Hungary regarding its decision to transfer Safarov to Azerbaijan," Tommy Vietor, the Secretary of the US National Security Council said.The Nagorno-Karabakh War gave rise to the tensions between the neighboring Caucasus states. First as Soviet republics and then as independent nations, Armenia and Azerbaijan fought from 1988 till 1994 to control the territory. Despite ongoing negotiations between the two countries, with Russia acting as mediator, they have yet to reach a formal resolution to the dispute. The territory is currently ruled by the local government, which is backed by Yerevan.
You can share this story on social media: