#GazaDayofRage: Tens of thousands take to streets worldwide in support of Palestinians
People across the globe have gathered to support the plight of Gaza, with the most impressive turnout taking place in London. Since the start of the Israel-Hamas conflict a month ago, over 1,800 Palestinians – mostly civilians – have been killed.
The calls to rally came from the International Solidarity Movement, Palestinian Solidarity Campaign (PSC) and Stop the War coalition.
The latter issued a statement on its website to Londoners, urging for "the largest UK demonstration for Gaza," and listing the reasons why Londoners should take part.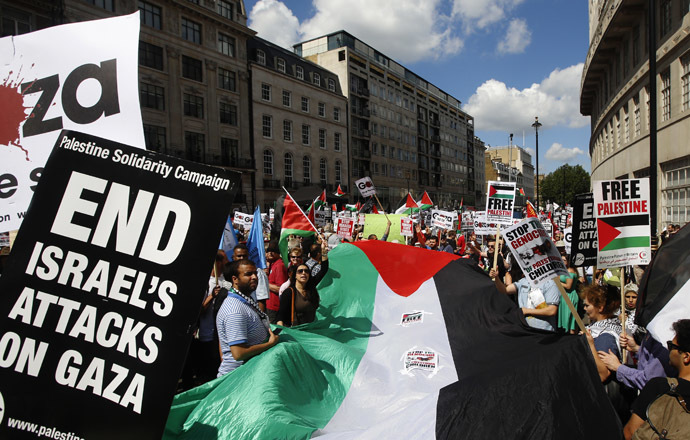 "A month of the world's fifth most powerful military force bombarding an area no bigger than the Isle of Wight has killed almost 2000 Palestinians and injured 10,000 more. No one and nothing has been safe from Israel's war crimes: 80 percent of the dead are civilians, over 400 of them children -- women, the disabled, the elderly, the infirm, all slaughtered by Israel's indiscriminate bombing with missiles and shells," Stop the War coalition declared on its website.
The International Solidarity Movement also launched an online rallying call, in Arabic, English, Danish, Dutch, French, German, Hebrew, Italian, Spanish, Swedish and Turkish.
@georgegalloway#FreePalestine March tdy in #London .Whole city is full of #Palestine flags! UK citizens #SupportGazapic.twitter.com/VzE2OY1mmy

— Freedom! (@sarasayslive) August 9, 2014
The London march kicked off at 1 pm, with around 20,000 gathering in front of BBC Broadcasting House and marching in central London, starting from Oxford Street. The organizers plan to end the march and rally in Hyde Park around 5pm.
"The MPS is working closely with organizers and partners to ensure the march passes off peacefully and protesters stay safe. There will be police liaison officers on duty throughout the event linking in and engaging with the demonstrators," the Metropolitan police stated on its website.
Also, police said that there would be traffic disruptions in the area.
"In addition to the march route, it will be necessary to close a number of roads around the Oxford Street area. This will undoubtedly cause significant traffic, crowd and business disruption in the vicinity. There will also be an increase in noise levels. Transport hubs will be busier than usual."
Thank you World for being with #Gaza That's a great honor for our Liberation heroes. Heroes never die. #FreePalestinepic.twitter.com/AFyLbgJNmY

— Gaza Spokesman (@GazaSpokesman) August 9, 2014
The march is happening in concert with a public appeal for money to help the victims of Israel's attacks on Gaza that has raised more than £4.5 million in less than 24 hours, The Guardian reported.
In Capetown, South Africa, tens of thousands rallied in support of Gaza. It's one of the biggest rallies the city has seen in decades, according to local the Iol news website.
"We estimate there are well over 30,000 people, and the figure could be as high as 50,000," Cape Town's executive director safety and security Richard Bosman told the South African Press Association.
Melomed 24 Ambulance Services operations manager, Shadley Abrahams, said the march had been peaceful.
The area near the South African parliament was packed with demonstrators, chanting, singing, and shouting, according to the local portal Eye Witness news. The protesters held banners, saying "stop the slaughter", and "boycott apartheid Israel."
#Melbourne joins global #dayofrage 4 #Gaza#GazaUnderAttack#Australia#auspol#Palestine#BDS#boycottIsraelpic.twitter.com/R441bctF4Q

— Kim Bullimore (@rafiqa65) August 9, 2014
In Australia, the country's two largest cities, Sydney and Melbourne, have seen the gatherings of up to 2,000 people.
Sheets of paper carrying the names of those killed in the Gaza conflict were stuck to windows and walls of the DFAT building.
People also coated their hands in red paint, coordinator Kim Bullimore from the Coalition Against Israeli Apartheid group told AAP.
The event was peaceful and "visual" but also a vocal protest, Ms Bullimore said.
An Israeli protester holds a placard against Israel's actions in #Gaza in #Melbourne,#Australia on August 9, 2014. pic.twitter.com/S7kbl6CppX

— Zainab Jamil (@RealZainabJamil) August 9, 2014
Greens party leader Adam Bandt declared that the country's premier, Tony Abbott, should put pressure on US President Barack Obama to help stop the "massacre" in Gaza.
"Tony Abbott should pick up the phone to Barack Obama and say, `look, we will not let you fire your rockets from our ships for so long as you are sending arms during a ceasefire to the Israeli government'," he said, as quoted by The Australian.
From #Oman with #love#Gaza#GazaUnderAttack#SaveGaza#Palestine#mikopeled#usa#uk#newyork#london#parispic.twitter.com/D4kDURWOVN

— noah (@se7enheaven_elf) August 9, 2014

In Iran, thousands of doctors, nurses and hospital staff expressed support for the Palestinian civilians, especially the women and children of Gaza.
Rallies also took place in Canada, Oman, Spain, Malaysia, and many other countries.
#Gaza#Peace & #Anti-#Racism#Rally. #antiracism#PrayForGaza#YYC4GAZA#yyc#Israel#Palestine#UN#Canada#Calgarypic.twitter.com/PkC8ycEn3y

— Critique My Photo (@CritiqueMyPhoto) July 27, 2014

Israel renewed strikes on Gaza on Saturday - around 30 air strikes were carried out in the area. Five Palestinians were killed. The most recent 72-hour truce ended on Friday morning.
You can share this story on social media: