'Glamourizing gang rape': Indian fashion shoot causes wave of outrage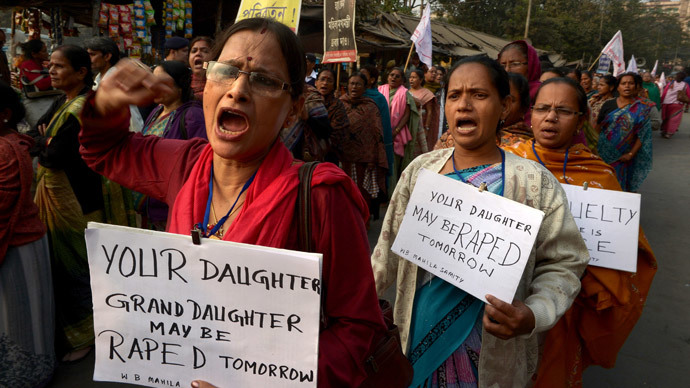 ​An Indian fashion photo shoot depicting a woman being physically assaulted on a bus has triggered widespread outrage as it mirrors a 2012 fatal gang rape. Officials call for legal action over "glorifying violence."
The shoot by photographer Raj Shetye entitled 'The Wrong Turn' emerged in his online portfolio and was later taken down.
The pictures showed a female model being groped on a bus by a group of fashionable young men.
The photo shoot has sparked a wave of outrage on social media in India, as it virtually mirrors the fatal gang rape of a student on a bus in December 2012.
Who the hell thought this was a good idea?! Disturbing Fashion Shoot Evokes #Delhi Bus Gang Rape http://t.co/gKcIcVcWJ5#India#rape

— Stephanie Rudat ☮ (@srudat) 7 августа 2014
Twitter users called it "shocking" and "disgusting," and insisted, despite the photographer's protests, that the photo shoot implies improper notions, glamourizing rape and violence.
In a blog for The Times of India, Delhi-based journalist Rudroneel Ghosh described the project as a "huge blunder."
"When you get models to dress up in stylish couture and enact a gang-rape scene, but minus the dread and terror, you end up glamourizing a crime against women," he said.
A Nirbhaya-inspired fashion shoot, themed: "Gangrape in a bus." CAN YOU BE MORE INSANE?? UNBELIEVABLE!!!!! https://t.co/jpfiD1sF2y

— Aarti Madan (@AartiMadan) 5 августа 2014
The fashion community was also in uproar after the photo shoot appeared.
"Certain things should be off limits - things like child abuse and gang-rape, as in this case. I think it's a case of really bad judgment, a loss of perspective. Some creative people, in pushing the boundaries, overstep them," designer Nachiket Barve told the Times of India.
"The worst part is, you're making models act as rapists. That means you're treating these criminals like heroes. That's just pathetic. You can't get away by calling that 'so fashionable'," model Amit Ranjan stated to the same media outlet.
Officials joined the damnatory chorus.
"Any person with common sense will understand this is nothing but glorifying of violence," Nirmala Samant, chairwoman of the National Commission for Women, told AFP.
She wrote to the Mumbai police chief, urging an investigation be launched over the shoot.
"I'm of the strong opinion that there should be some legal action because this is not artistic freedom, certainly not," Samant stressed.
The photographer denied any connection of the shoot with the gang rape two years ago, speaking to the Delhi Times, and stated in his defense that he attempted to express himself via the medium he is best at.
"I have been getting a number of calls regarding this. I don't know how to react. The shoot is not based on the Nirbhaya incident. It is just a depiction of the situation of women in our country right now. It is my personal work, not for any commercial value. I have taken the shoot down from my official site. I'm a working professional and I don't want hate messages on Facebook and Twitter," he told the Times of India.
This is the official explanation by the photographer of the Nirbhaya shoot (Raj Shetye) as sent to a friend on FB. pic.twitter.com/qJveHT907K

— Suprateek Chatterjee (@SupraMario) 5 августа 2014
"The aim is purely to create art that will garner public opinion about issues that concern women," he underlined.
In December 2012, a gang of six men attacked and sexually assaulted a 23-year-old student, including with an iron rod, after she was cajoled into getting into a private bus on the way home from cinema.
Almost two weeks later, the young woman died from her injuries.
Four men were convicted and sentenced to death last over the attack, with another one found dead after committing suicide in his cell. A juvenile that was the sixth in the group was sentenced to a maximum of three years in prison.