Passengers rescue man trapped between train and platform (VIDEO)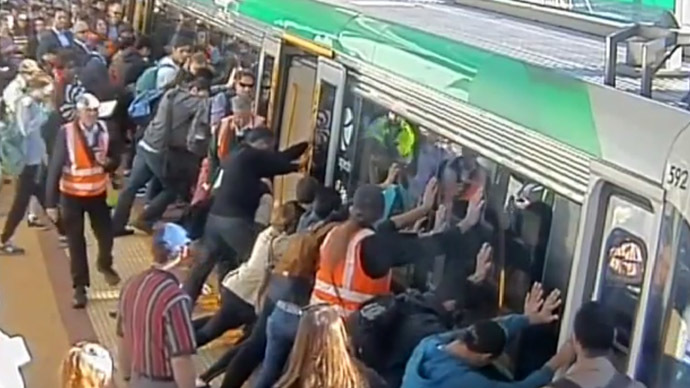 Several dozen passengers pushed a train in Australia to help a fellow commuter, whose leg got stuck in between a carriage and platform.
A man was about to board a center bound train at Stirling station in Perth, Western Australia, when his leg slipped into a gap.
The episode and what followed next was captured by CCTV cameras and later posted online by the Public Transport Authority of Western Australia.
The train driver was instructed not to move the vehicle, while the station staff started thinking of the ways to get the man out of the trap. Witnesses say the first idea was to ask all the passengers to move to the opposite side of the train, so that it would tilt from the platform, but that didn't work.
Next, around 50 passengers started pushing the train and it eventually yielded to their team effort.
"We were really fortunate that the staff were there straight away... and all of the passengers not only listened to the instructions from staff, but pitched in and helped," Transperth spokeswoman Claire Krol told AFP.
"This is a real case of passengers working together... and people power are the perfect words to describe it," she added.
RT @nicolastaylornz: Mind the Gap !!, Stirling Station this am #perthnews#wanews@thewest_com_aupic.twitter.com/p0uKvltadf

— Nicolas Taylor (@nicolastaylornz) August 6, 2014
Nicolas Taylor, one of those who helped to move the train, posted a picture of the unlucky trapped man.
"He was walking so he was reasonably OK," Taylor told Perthnow. "He seemed to be a bit sheepish, because right where he fell was the 'mind the gap' writing."
The man did not sustain serious injuries and even though an ambulance was called for him, he was not taken to hospital. He caught a later train instead.