Sierra Leone 'unable to contain' Ebola outbreak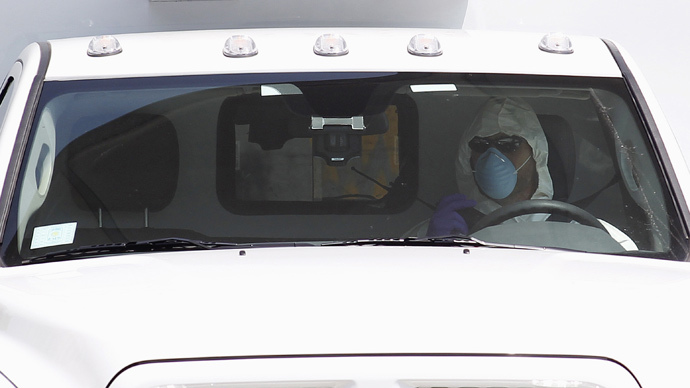 As health officials scramble to respond to the recent Ebola outbreak in West Africa, one emergency coordinator is claiming that Sierra Leone is incapable of handling the situation.
Speaking toCNN on Tuesday, Doctors Without Borders coordinator Anja Wolz said the country needs international help if it is going to stop the situation from getting worse. Specifically, she called on the United Nations World Health Organization (WHO) and the US Centers for Disease Control and Prevention (CDC) to become involved.
"I think that the government and the ministry of health here in Sierra Leone is not able to deal with this outbreak. We need much more help from international organizations – as WHO, as CDC, as other organizations – to come to support the government," she said.
"Still we have unsafe burials; people who are doing the burial without disinfection of the body; still we have patients who are hiding themselves; still we have patients or contacts of patients who are running away because they are afraid."
Later on Tuesday, the WHO announced it would hold a two-day emergency meeting on Ebola beginning Wednesday, in order to decide if the outbreak requires international attention. Previously, it announced $100 million in funds to help combat the virus.
"The idea is that the WHO Director-General is seeking an opinion of the emergency committee on whether the current outbreak represented a public health emergency of international concern," spokesperson Tarik Jašarevic said to reporters, according to the UN News Center.
"If it does, then the committee would recommend to the Director-General of WHO to declare it a public health emergency of international concern and recommend appropriate temporary measures to reduce international spread" of the virus.
The outbreak – which is primarily affecting Sierra Leone, Guinea, and Liberia – has taken the lives of close to 900 people since February, sparking fears of a potential global pandemic in the making. As noted by CNN, one man is in critical condition in Saudi Arabia after returning from Sierra Leone, and doctors haven't ruled out that Ebola could be the cause of his suffering.
Meanwhile, another individual is being tested for Ebola in Wales, where the person in question is believed to have potentially come in contact with the virus in West Africa. So far, no Ebola cases have been confirmed in the United Kingdom.
Panic over Ebola has also hit the United States, where two aid workers who contracted the disease in West Africa were transferred in order to receive treatment. As RT reported on Tuesday, the workers were given an experimental drug and have improved since, but it's unclear to what extent the new medication is responsible for their recovery. One New York City man was also tested for the disease after traveling through West Africa, but the results were negative.
There is currently no cure for Ebola, which is highly contagious and typically has a fatality rate of 90 percent – though the most recent outbreak is killing at a notably lower 60 percent rate. The virus usually triggers diarrhea and vomiting before more serious conditions arise, such as internal and external bleeding.
In response to the deteriorating situation, the US is expected to send 50 health experts from the CDC in order to help address the outbreak and establish better detection and prevention systems.
"This is the biggest and most complex Ebola outbreak in history," Dr. Tom Frieden, director of the Centers for Disease Control and Prevention, said in a statement on July 31."It will take many months, and it won't be easy, but Ebola can be stopped," he said. "We know what needs to be done."
As the fatalities mount, some have called on the US Food and Drug Administration to fast-track authorization of new medication that could stop the disease. Several drugs and vaccines are currently being tested and have undergone human trials, but they have yet to be tried on sick individuals. A petition posted on Change.org claimed that, considering the circumstances in West Africa, the drugs should be offered to the sick there.