​Ebola-infected US aid worker arrives in 'special isolation unit' in Atlanta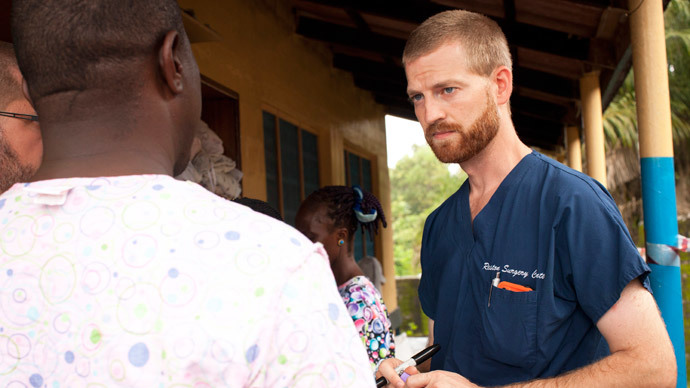 One of the two infected US aid workers who contracted Ebola while working in Liberia has arrived at a hospital in Atlanta, Georgia. The country officials say there is no threat to the public as the patient will be treated in a special isolated unit.
Ebola-infected US aid worker to be treated in 'special isolation unit' in Atlanta

A medical aircraft with Dr. Kent Brantly arrived at Dobbins Air Reserve Base in Marietta, Georgia, spokesman Lieutenant Colonel James Wilson told AP.
The aircraft was equipped with a plastic isolation tent, a medical bed, intravenous lines and monitoring equipment, designed for transporting patients with highly infectious diseases, the Centers for Disease Control and Prevention (CDC) said.
From the base Brantly was driven in an ambulance under police escort to the Emory University Hospital in Atlanta, Georgia, wearing a bio-hazard suit.
According to an Emory hospital spokesman, Dr Brantly walked under his own power. The local TV news footage showed three people who step out of the ambulance and headed to the hospital. One of them seemed weak as he was leaning on one of the other people for support.
Dr. Jay Varkey, an infectious disease specialist at Emory, who will be involved in Brantly's case, said that the hospital is well-equipped to handle viruses that are even deadlier than Ebola.
"Ebola is only transmitted through blood and bodily fluids," he said. "Unlike the flu, like influenza, which we deal with every winter, Ebola cannot be spread through the air."
The hospital's special isolation ward is one of just four of its kind in the US.
There is no cure for the deadly Ebola virus, but companies around the globe are attempting to develop a vaccine as the current outbreak continues to ravage a region in West Africa.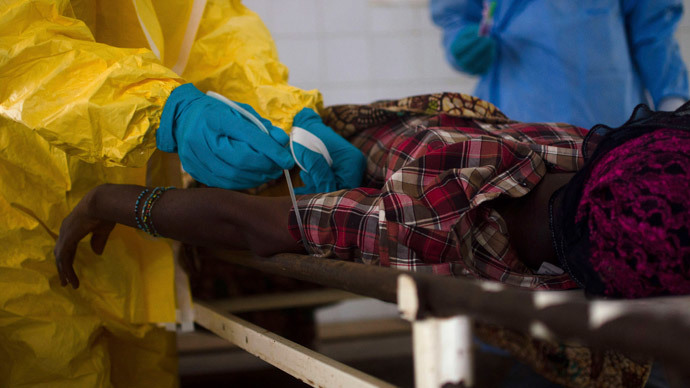 According to Dr. Philip Brachman, an Emory University public health specialist, medical workers will try some modern supportive therapies for the treatment, including better monitoring of fluids, electrolytes and vital signs.
"That's all we can do for such a patient. We can make them feel comfortable" and let the body try to beat back the virus, he said.
Brantly, 33, is one of two workers for Samaritan's Purse, an international relief group based out of Boone, North Carolina, who were diagnosed with Ebola while working in Liberia. Missionary Nancy Writebol, 59 is expected to join Brantly in the Atlanta hospital isolation ward in a matter of days. The delay is because the aircraft equipped to transport carriers of infectious disease can only carry one patient at a time.
American volunteers who contracted Ebola in 'grave' condition
Both Brantly and Writebol will treated by a team of physicians who specialize in infectious diseases. They will be able to see their relatives only through a plate-glass window.
"It was a relief to welcome Kent [Brantly] home today. I am thankful to God for his safe transport and for giving him the strength to walk into the hospital," Reuters quoted Brantly's wife, Amber, as saying in a statement. "Please continue praying for Kent and Nancy, and please continue praying for the people of Liberia and those who continue to serve them there."
In the meantime, there are many concerns in the US that with the arrival of a patient affected with Ebola, the deadly virus will soon spread in the country. However, officials insist there is no risk to the public.
The Centers for Disease Control and Prevention were not aware if any Ebola patient was treated in the US previously, but in the recently at least five people have entered the country with either Lassa Fever or Marburg Fever, viruses which are similar to Ebola, a spokesman for the agency said.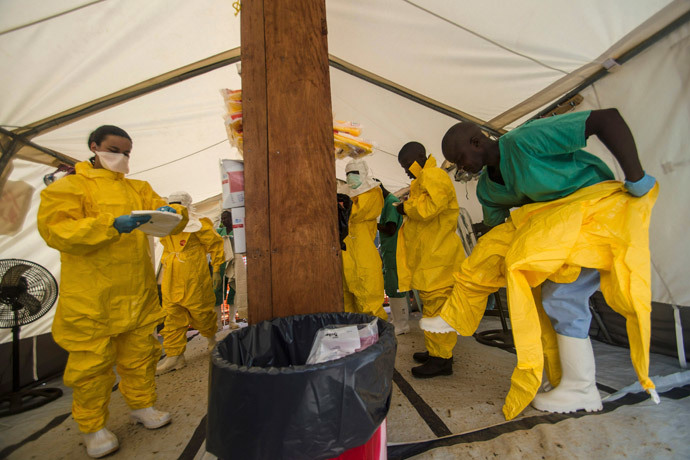 According to the latest data from the World Health Organization (WHO), the latest Ebola outbreak has infected at least 1,323 people and killed at least 729.
The mortality rate for Ebola can be as high as 90 percent, depending on the strain, although the latest outbreak has a mortality rate of 60 percent. The symptoms include acute fever, bleeding and damage to the central nervous system.
On July 31, the WHO together with West African countries said that they are launching a $100 million emergency plan to battle the deadly virus.
"The scale of the Ebola outbreak, and the persistent threat it poses, requires WHO and Guinea, Liberia and Sierra Leone to take the response to a new level and this will require increased resources, in-country medical expertise, regional preparedness and coordination," said WHO Director Margaret Chan.
US health authorities have already advised against traveling to Guinea, Liberia and Sierra Leone, countries mostly affected by the virus as the outbreak "represents a potential risk to travelers."
You can share this story on social media: