'According to security needs': 296 Gaza children killed, Israel vows to continue action
At least 296 Palestinian children have been killed so far in an IDF operation in the Gaza Strip, UN says. The continued bombardment took 84 lives on Saturday alone, with Israeli PM saying that destroying Hamas' tunnels is not the ultimate goal after all.
"Children make up for 30 percent of the civilian casualties," said UNICEF, adding the toll is only rising. "The number of child casualties during the last 48 hours may rise as a number of incidents are pending verification," it said in a statement.
Breaking down the numbers, UNICEF reported that confirmed casualties so far include 187 boys and 109 girls – with at least 203 of them under the age of 12.
Israel war kills 100s of #Gaza kids http://t.co/oSYJdt2Xs9 via @PressTV#GazaUnderAttackpic.twitter.com/danncpDUeW

— ISM Palestine (@ISMPalestine) August 2, 2014
At least 1,670 Palestinians in the Gaza enclave have been killed as Israel-Hamas fighting enters its 27 day, Palestinian health officials say, with more than 8,900 being wounded in IDF shelling from the air, land, and sea. Furthermore UNRWA estimated that up to 25 percent of Gaza's population of 1.8 million are now displaced.
Israel says that fighting with Hamas already took the lives of 63 soldiers, while another three civilians died from Hamas rockets.
People in Gaza collecting burned and peaces of AlQuran after Israel bombed their mosques... #GazaUnderAttack#Gazapic.twitter.com/pQLOWNNy96

— فلسطين i (@iFalasteen) August 2, 2014
Meanwhile the Israeli Prime Minister Benjamin Netanyahu warned Hamas that it will "pay an intolerable price" if it continues to attack Israel, promising to fight as long as necessary.
"After completing the operation against the tunnels, the military will prepare for our continuing action according to our security needs and only according to our security needs, until we obtain the objective of returning security to you the citizens of Israel," Netanyahu said, adding that Israel prefers a diplomatic solution, but will keep all military options open.
1000s join funeral for Palestinian killed by Israel http://t.co/QRonCgjsHV via @PressTV#Gaza#GazaUnderAttackpic.twitter.com/Cm7iAIdkX7

— Joe Catron (@jncatron) August 2, 2014
Hamas spokesman Fawzi Barhoum dismissed the Israeli leader's remarks as "confused." "We will continue to resist until we achieve our goals," he said.
Israel refused to take part in planned ceasefire talks, after a 72-hour humanitarian truce was broken on Friday. Earlier Saturday, Israeli cabinet minister, Yuval Steinitz, said that Hamas has violated ceasefire deals and that "this leads us to the conclusion that with this organization there is no point speaking" about any halt to hostilities, AP reports.
Another senior Israeli officials said, according to Haaretz, that the Israeli Cabinet still thinks it has "enough international legitimacy for an operation in Gaza."
The official added that if the government feels that "deterrence has been restored," the IDF will leave the Gaza Strip on the basis of the "quiet for quiet' principle," but otherwise will "continue the operation inside the Gaza Strip or exit and continue with the aerial bombardment."
In rebuttal to Steinitz comments, Hamas spokesman Sami Abu Zuhri said that even a unilateral Israeli withdrawal would not "commit" the group to anything and Israel will "pay" in any case, Ma'an reports.
"The resistance could fight on despite the fact that they have been fighting for 27 days," Abu Zuhri said. "They either stay in Gaza and pay the price, unilaterally retreat and pay, or negotiate and pay."
This is what happened in Rafah... Stop Israeli crimes agains the Palestinians... #GazaUnderAttack#PrayForGazapic.twitter.com/7YRrcKj082

— فلسطين i (@iFalasteen) August 2, 2014
On Saturday, Israel intensified its campaign in Gaza, blaming Hamas for violating the ceasefire by capturing an Israeli soldier. The militant organization denied the claims, saying the Israeli was probably killed in Israeli shelling, which began with intense bombing the Rafah area, with medics claiming the death of 114 people in 24 hours, AP reports.
READ MORE:Over 100 Gaza civilians killed overnight as Israel searches for missing IDF soldier
Tel Aviv claimed the Israeli military is focusing its search for the missing soldier on the outskirts of Rafah, a city of 71,000 Palestinians. Meanwhile, Gaza medical authorities said Saturday's death toll had risen to 84, as Israeli forces continued their bombardment of the besieged coastal enclave.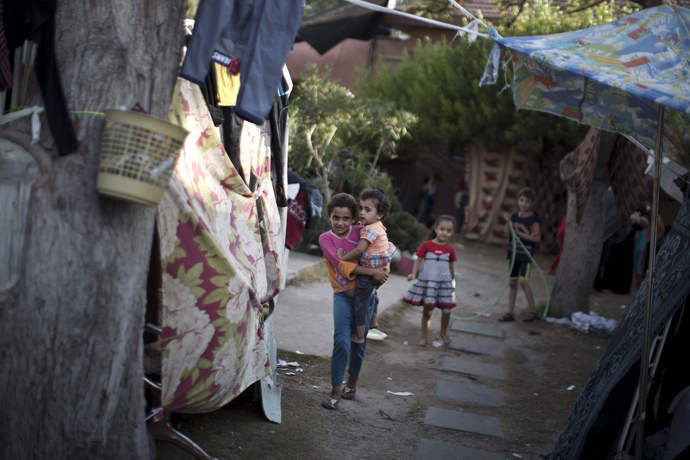 You can share this story on social media: