Surveillance paradise: How one man spied on NSA in Bahamas (VIDEO)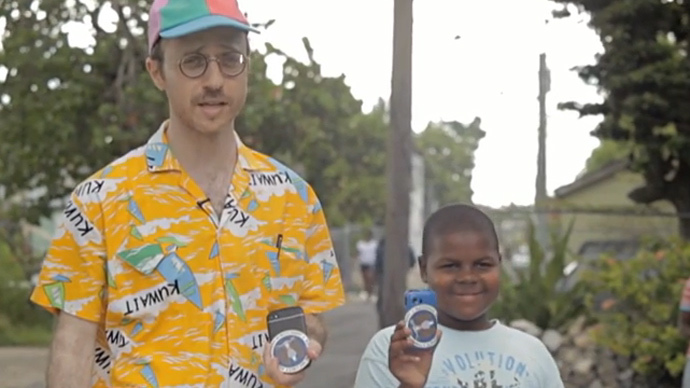 Following reports the Bahamas are under total NSA surveillance, Nimrod Kamer went to the Caribbean state to investigate for RT how its people cope without any privacy and why local authorities refuse to lift a finger to restore it.
Kamer, a London-based journalist and satirist, returned from his "holiday" with one of his branded trolling-style reports, which – despite the colorful picture – raises some serious issues.

Revelations by ex-NSA agent turned whistleblower, Edward Snowden, are making huge waves in the small island state of the Bahamas.

Bahamian foreign minister, Fred Mitchell, appeared before the local parliament in May, saying that the US has "opened a back door to the country's cellular telephone network enabling it to covertly record and store the full take audio of every mobile phone call made to, from and within Bahamas."

"According to Snowden, the US surveillance is part of the top secret system called SOMALGET," he added throwing his weight behind a publication by Glenn Greenwald, Ryan Devereaux and Laura Poitras.
Earlier, Mitchell called on the US to give an explanation on the practice and renewed the call in May and June, but to no public result.
Current and previous Bahamian governments keep stressing that they didn't give their consent for NSA spying.

But – as Kamer and many in the country point out – this doesn't prove that the authorities were unaware of such actions by the US intelligence.

Bahamas' only cellphone operator, BTC, refused to confirm or deny anything when approached by Kamer on the surveillance issue.
Meanwhile, it's no secret for ordinary Bahamians that they are being spied on by the NSA, Kamer says. They report hearing "fuzzy noise" in their phones during conversations.

Some stage rallies to protect their privacy, while some advise to only use emoticons while texting in order to fool the American text recognition programs.

The US interest in the tiny Caribbean state with a population of less than 320,000 is explained by its proximity to Florida and a reputation for drug trafficking and offshore banking.

The NSA's actions are illegal in accordance with local laws, but the Bahamas simply doesn't have the resources to fight the Americans on the issue.

"The US is surveilling the whole world," Ryan Pinder, Bahamian minister of financial services, explained. "I'm not too bothered about that."