Ukraine's Soviet-era drone captured by Donetsk militia (VIDEO)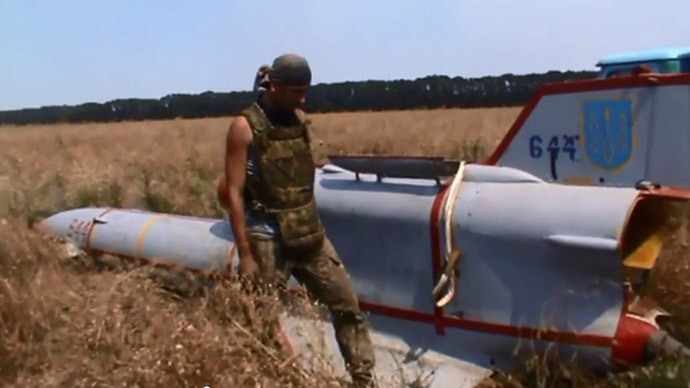 An old Soviet Tu-143 reconnaissance drone allegedly deployed by the Ukrainian army has crashed near Donetsk, with local militia, initially not aware of what that monstrosity was, suspecting in the video to have downed Kiev's "weapon of mass destruction."
The YouTube video of the downed drone claims the archaic unmanned aerial vehicle (UAV) was shot down "at approximatly 13:30 local time near Shahtersk." In the video, the representatives of DPR anti-Kiev forces say that the "object will be further identified."
"Today we have shot down 'something' over our skies," a man in the video says. "At first, we thought it was an unmanned drone. But now we have doubts."
The soldier in the video sends a message to the authorities in Kiev, saying "don't you think it is a bit too much? To use such weapons!" as he pointed out to the serial number of the unit, saying that Kiev will not be able to disguise the deployment of "that weapon."
The weird aircraft, marked with Ukrainian insignia, has since then identified as the Tupolev Tu-143 Reys drone. It was used in the Red Army during the late 1970s and 1980s and several units have allegedly been maintained in a satisfactory state by the Ukrainian military after the collapse of the Soviet Union.
The Soviet UAV, around 950 units of which were made, is designed to conduct tactical intelligence. The short-range (up to 70 kilometers) system with low-level flight capability was developed to be deployed on board a heavy truck trailer.
The Tu-143 is truck-launched with a rocket-assisted takeoff (RATO) booster and upon finishing its reconnaissance mission is recovered by parachute, touching the ground smoothly on retractable landing pads. The original version used film cameras, but later versions were equipped with a video recording or radiation detection payload.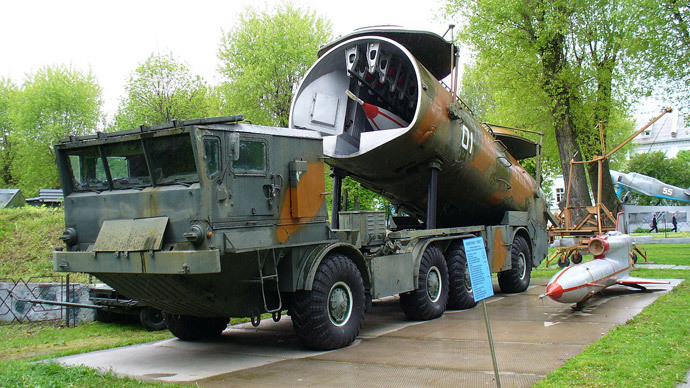 In an interview with RT military expert Viktor Litovkin said that the Tu-143 has both "photo and video equipment which it transmits to the ground." At the same time he said this UAV model has a "short life expectancy...just enough for five runs, before it is shut down."
"Maybe Ukrainians have a few UAVs. But the thing is, you need to know how to operate them. One needs to know how to retrieve data. On its own the drone does not present any danger. It has to be a part of a military complex to be used effectively," Litovkin said.
FULL VIDEO
You can share this story on social media: