Russia: US claims on nuclear missiles treaty unfounded, we have questions too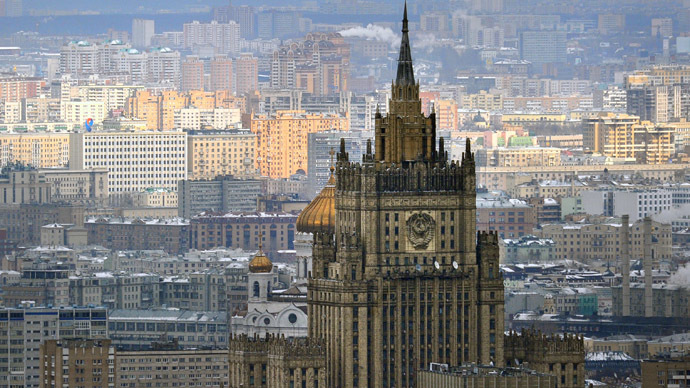 Moscow has slammed Washington's allegations that Russia breached the Intermediate-Range Nuclear Forces Treaty, calling the claims unsubstantiated. It added Russia also has complaints about the US's fulfillment of their obligations under the treaty.
US claims that Russia violated the Intermediate-Range Nuclear Forces Treaty (INF Treaty) are "just as unsubstantiated as everything that has recently been heard by Moscow coming from Washington, including other issues. There is absolutely no evidence provided to support [these allegations]," Russia's Foreign Ministry said in a statement Wednesday.
Moscow's statement comes in response to US President Obama's letter to Russia's Vladimir Putin on Tuesday, informing him that the US has determined that Russia has breached the treaty.
White House accuses Russia of violating Intermediate-Range Nuclear Forces Treaty
The ministry said that the problems regarding the obligations under the treaty by both sides are not new.
"They are well-known by both sides" and need to be worked on continuously, with both countries refraining from loud accusations, the ministry said.
"This cooperation is all the more important, as we have accumulated a considerable amount of complaints to [be addressed to] the US in the framework of the treaty. In particular, on target missile defense tests similar in characteristics to the short- and intermediate-range missiles and the manufacturing of armed drones, which meet the treaty's definition of ground-launched cruise missiles," the ministry said.
Moscow added that recently the MK 41 Vertical Launching System has come into the spotlight, as the US is planning to deploy those launchers in Poland and Romania as part of its global missile defense shield plan.
"These systems can launch intermediate-range cruise missiles and their land-based version can be regarded as a direct violation of the INF Treaty," the ministry said.
The ministry reiterated that Washington was refusing to listen to Moscow's calls, instead "only listening to themselves."
Russia hopes to receive answers to these "pertinent questions" and to see that the US is ready to work on ensuring the observance of the treaty, the ministry said.
The INF Treaty – a key agreement between the United States and the Soviet Union which put a seal on the Cold-war era – was signed by US President Ronald Reagan and Soviet leader Mikhail Gorbachev in 1987.
It eliminated nuclear and conventional ground-launched ballistic and cruise missiles with intermediate ranges, defined as between 500-5,500 kilometers (300-3,400 miles). The two countries agreed to reduce their nuclear arsenals, eliminate an entire category of nuclear weapons, and conduct extensive on-site verification inspections. As a result, the United States and the Soviet Union destroyed a total of 2,692 missiles.
You can share this story on social media: