'Situation atrocious': Russian Red Cross says E. Ukraine faces humanitarian catastrophe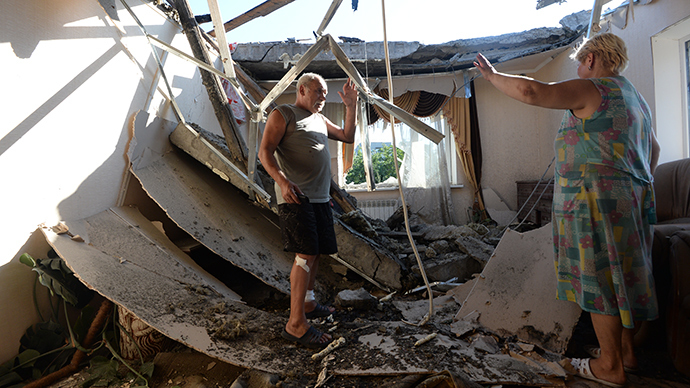 The Russian Red Cross has described the situation in Eastern Ukraine as a humanitarian catastrophe and has urged the rapid evacuation of children from the war zone.
"The situation in Ukraine is atrocious, a humanitarian catastrophe," Tatiana Klennitskaya, a spokeswoman for the Russian Red Cross, told Vzglyad daily. "The children are miserable, people are miserable. Of course, everyone has to be saved. The need for a humanitarian corridor is indisputable. The Red Cross is doing all it can."
The chairwoman of the Russian Red Cross, Raisa Lukutsova, said the organization would appeal to the International Committee of the Red Cross to facilitate the opening of a so-called humanitarian corridor, a temporary demilitarized zone which would allow the safe transit of humanitarian aid and refugees.
The Russian Red Cross is not alone in its efforts. Russian Human Rights Commissioner Ella Pamfilova has been trying to achieve the same goal.
"We have made requests to the Ukrainian authorities, OSCE representatives who are present there, and to the Red Cross," Pamfilova told RT. "We ask all warring parties to grant us a humanitarian corridor to rescue children with severe illnesses. In order to leave the shelling zone, they need special transport and specialist medical help."
Residential areas have come under fire in the east of Ukraine as Kiev's forces continue their military operation there. Ukrainian troops and anti-government forces have been blaming each other for the civilian casualties.
The town of Gorlovka in the Donetsk Region has for the last several days witnessed massive shelling. Twenty-seven civilians, including 4 children, were killed in the region July 27-29, the city council said.
Church & playground shelled in Eastern #Ukraine - aftermath footage http://t.co/S90nenZK51pic.twitter.com/j9KQeMXzNY

— RT (@RT_com) July 30, 2014
There has been also a continuous shelling of Donetsk residential areas during the week.
Khutor Shiroky, near the city of Lugansk, also came under intense shelling. At least one resident died, and many people saw their homes demolished by missiles.
Locals pointed to craters left behind by the bombardment, and shells which they say are from a Grad rocket system, to support their claims that the attack was staged by Kiev's forces.
"I've been working all my life, and what now?" a Shiroky resident told RT's Ruptly video agency, pointing at his ruined house. "They've destroyed the home of my children. They killed a disabled person. Why?"
"They have no pity on anyone," a young girl standing nearby started to cry. "They are not sorry for anyone, not even for the young children… How can they do this?"
The press service of the self-proclaimed Lugansk People's Republic claimed on Wednesday that the Ukrainian National Guard was shooting at a bus trying to get refugees out of the city of Lugansk, Itar-Tass reported.
Russia has so far been the only country that has taken notice of the drastic humanitarian situation in Ukraine, says leadership of the National Front of Novorossiya (NFN) political movement, campaigning for the independence of the Donetsk and Lugansk regions.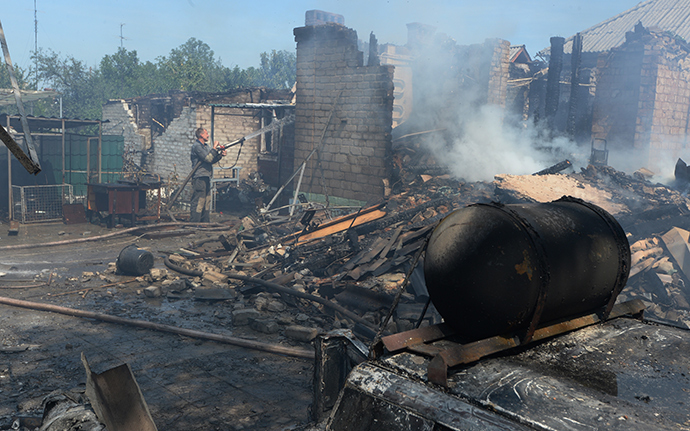 A total of 50,000 people in Lugansk have been left without electricity, according to NFN's executive committee chairman, Aleksandr Zinchenko. He added that there's a shortage of food and that in 10 days he expected the city to run out of drinking water supplies.
NFN's co-chairman Oleg Tsarev spoke of the damage done to the Donetsk Region, where 156 power supply facilities have been damaged in shelling, as well as 41 bridges and 258 apartment blocks.
"When similar things happen in Africa or in the Middle East, the whole world is sending humanitarian aid there," Tsarev said. "We are not being helped by anyone but Russia."
Russian Foreign Minister Sergey Lavrov announced Wednesday that Moscow was going to appeal to the United Nations, the OSCE and a number of other international organizations, urging them to set up a humanitarian mission to be sent to southeast Ukraine.
You can share this story on social media: