Gaza war on Facebook: Israel critics fired after 'unacceptable' comments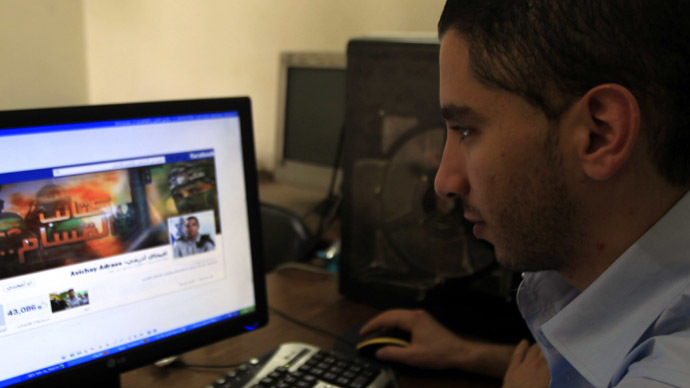 Several people have reportedly been fired after criticizing the Israeli Gaza offence on social networks, or expressing joy over the deaths of Israeli Defense Forces (IDF) troops.
Follow RT's LIVE UPDATES on Israeli ground op in Gaza
As violent confrontation in the Gaza Strip continues, with the Palestinian death toll already exceeding 1,000 and Israeli deaths being over 50, another battle has broken out on social networks.
Supporters and opponents of both sides have been flooding Facebook, Twitter and YouTube with emotional posts, photos and videos and have even launched a campaign urging an end to the war.
However, being too emotional in the expression of feelings online has cost several people their jobs and scholarship, according to Haaretz.com.
The Israeli newspaper writes that a growing number of pages on Facebook are reporting on users who share their happiness over the IDF casualties in the conflict, or harshly criticize operation Protective Edge and are demanding that these people should be fired. These online communities – including "Boycott Haters of Israel," "Fifth Column in Israel" - appear to be extremely popular, having received up to "tens of thousands" of "Likes."
As an example, the paper refers to a story of an Arab female student at Hadassah College in Jerusalem, who lost her scholarship following a post on Facebook.
"We read your post with shock and disgust," College President Berthold Friedland wrote to her. "Until clarifications are completed and the police deal with it, the college management has decided to prohibit you from entering the campus for any reason, academic or other," Friedland added, as cited by Haaretz.
Administrations at other educational establishments warned their students and staff against any "extremist and inappropriate statements" on social networks, threatening disciplinary punishment or even police action. The warning triggered a protest at Tel Aviv University, where 30 faculty members signed a letter against the move.
In a separate case, an Israeli supermarket chain, Tiv Ta'am, said it fired an employee for being joyful over the death of Israelis in the conflict. That followed a report on a Facebook page "Concentration of Destroyers of Israel," according to Haaretz. Similar comments also resulted in dismissal for a psychological counsellor, Isra Gara of Jatt at the Lod municipality.
Employees of several other companies, including Israel's largest telecommunications company Cellcom, were summoned for clarifications after making unacceptable statements on social networks, the paper wrote.