​West under threat: Terrorists from Syria are heading to Norway - officials
Published time: 25 Jul, 2014 13:14
Edited time: 25 Jul, 2014 13:26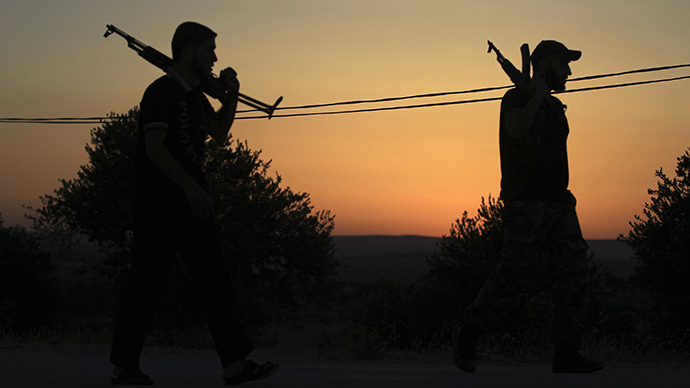 A terrorist group has left Syria and is heading to Norway, said Norwegian intelligence officials. The statement comes the day after the country's authorities were informed of a possible "terrorist attack" and took security measures.
"We received information that a group of people have traveled from Syria with the goal of carrying out a terror attack in the West, and Norway is specifically named," Jon Fitje Hoffmann, a strategic analysis chief from PST, the Norwegian security intelligence group, told TV2, the largest commercial television station in Norway, "That was the starting point for the situation we are in now."
According to Hoffmann, PST has done what they can "to clarify and verify this information."
"The work so far has led us to believe the credibility of this information is strengthened," he said, adding that the exact whereabouts of the group are as yet unknown.
Hoffmann didn't reveal to media what the source of the information about the terror threat was: Norway intelligence services, or one of the 60 countries Norway exchanges information with.
"This is a very special situation which the entire PST has worked on together with our cooperating partners," he said. "Many are involved in the assessments and actions taken on the basis of that."
The information about the time limits of the event wasn't clear either.
"The information we have about the time limit is not secure fact. It can change. This threat has no completely clear expiration date, but we nevertheless believe the threat window will not be long-lasting."
Police authorities said they would decide on Friday if the country would apply certain measures to deal with the current situation.
"We will have a conference call with all police chiefs, get in situation reports, and look at whether we will make further efforts," Police Director Odd Reidar Humlegard told TV2.
Norway took exceptional security measures on Thursday after being informed of a possible "terrorist attack."
PST recently received information that a group of extremists from Syria may be planning a terrorist attack.
The security measures were immediately tightened at atomic reactors in the Norwegian towns of Kjeller, and Halden and also in the country's capital - Oslo.
Following the information about the threat, tourist attractions announced their closure. City Hall and the Royal Palace in Oslo canceled their tours and announced that it would not be open to tourists until further notice. Armed police were also patrolling Oslo's Gardemoen airport on Thursday.
The country's authorities also decided to close the Jewish Museum of Oslo.
"As a potential target, we have made this decision. It is sad. We have nice exhibitions going on, but we cannot risk the lives of our staff and the visitors," Rolf Kirschner, assistant manager of the museum told NTB news agency, as cited by The Local.