At least 20 killed in school bus collision in India
Published time: 24 Jul, 2014 07:20
Edited time: 24 Jul, 2014 10:33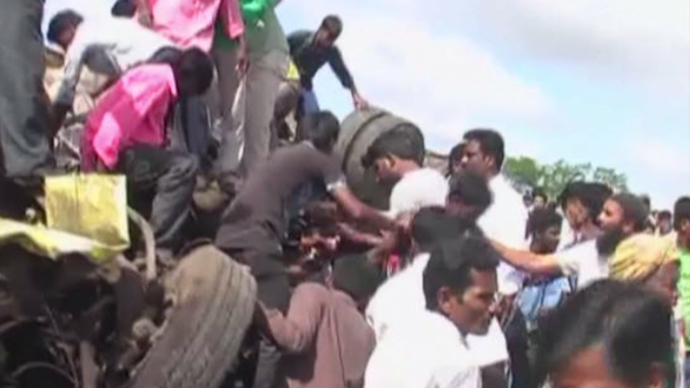 At least 19 children and a bus driver have been killed after a school bus collided with a train in southern India. The death toll may rise as many of the injured are in critical condition, Indian officials told local media.
At least 16 children aged between 7 and 14 years were injured and taken to hospital, police officer Ravi Nallamala told AP.
There were 32 school students on the bus, 12 of them died on the spot and seven at hospital, said police officials.
"Doctors say blood is flowing from their bodies," a police official told Reuters on condition of anonymity.
There were conflicting death toll reports in local media, with the number ranging from 12 to 20.
The accident happened in Masaipet village in the Medak district of southern Telangana state in southern India. The bus was heading to the Kakatiya Techno School in Toopran Mandal, nearly 8 km from the Masaipet village.
The vehicle was crossing railway tracks near the village when the Nanded passenger train rammed into the bus and dragged it for over two hundred meters.
The bus crossed the railway track without stopping to check if the way was clear, said Indian Railways spokesman Anil Kumar Saxena.
The Indian railway network carries about 23 million passengers every day and operates nearly 9,000 trains.
Railroad accident rates in India are amongst the highest in the world, due to poorly maintained roads and engines. A National Crime Records Bureau (NCRB) report revealed that every year, more than 135,000 road deaths occur in the country.