Plane drain: Soviet MiG fighters end up in river after flood in Russian city (PHOTOS, VIDEO)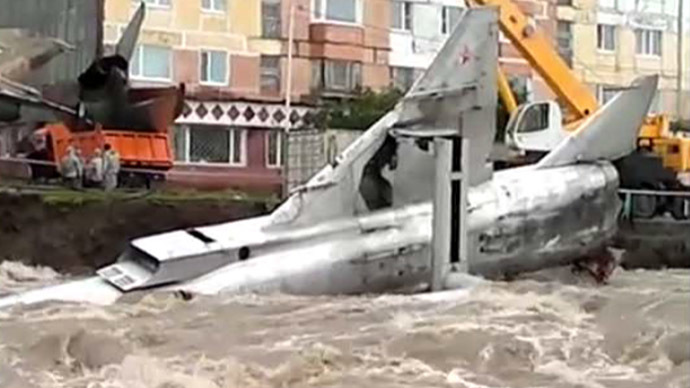 A powerful cyclone in Russia's Far East has caused a river in the city of Magadan to break its banks and wash away a display of old Soviet fighter jets. Some people have taken to jet skiing along the streets to get around.
Three months worth of rain fell overnight on Tuesday and turned the normally shallow Magadanka River into a torrent taking everything in its wake, from small buildings to the skeleton fighter jets, down towards the Sea of Okhotsk.
The two fighter jets were part of public display of military hardware, parked next to apartment blocks and used as a playground for local children.
The military museum consisting of three fighter jets(two Su-24 and MiG-21), a Mi-2 helicopter, T-54 tank, various APCs, anti-aircraft guns, a couple of naval guns, two M-75 anti-tank cannons, a radar, missiles and other pieces of military equipment that has been fascinating local youngsters.
The jets have been fished out of the water as local authorities were concerned they could damage a number of bridges downstream.
Flood surge: Torrent takes down Soviet MiGs in Russian far east (VIDEO) http://t.co/yG9re9qSdTpic.twitter.com/D7pIxJ1r5a

— RT (@RT_com) July 23, 2014
Tuesday's 175 millimeters of rain is the largest one day precipitation in the area since records began in 1936.
"Never since 1936 have we registered such rainfall in July," the head of the local weather bureau Vera Zavad'ko told the Interfax news agency.
The region's main transport corridor, the Kolyma highway has been badly damaged, with several sections of the road washed away and a number of bridges have been weakened by the force of the water.
A state of emergency has been declared in the Magadan region where floods have cut off villages, destroying homes. Over 200 children have been evacuated from a local holiday camp.
Weather forecasters predicts three more days of heavy rain in the region.
Magadan is the largest city in the area and has a population of 95,000. It was established in 1926 as a worker's settlement for the exploration of natural resources in the Kolyma River basin, mostly gold and silver.
The city of Magadan is situated on the shore of the Sea of Okhotsk and is one of Russia's most difficult cities to access as it is constructed in a zone of permafrost.
You can share this story on social media: